Nasdaq at 11-month high
A rally in commodity prices, deal talk and an upgrade of GE give stocks a lift as investors return from the Labor Day holiday.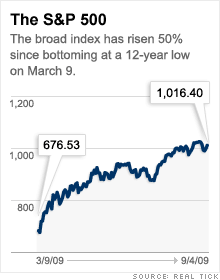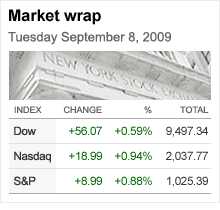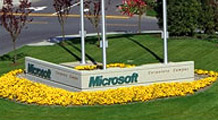 After a bleak 2008, equities are looking up. But whatever the market, our trademark long-term portfolio can help you build a nest egg for a secure future.
NEW YORK (CNNMoney.com) -- The Nasdaq hit its highest point in almost a year Tuesday and the Dow and S&P 500 also climbed as commodity shares rallied, and General Electric was upgraded.
Bond prices sank, raising the corresponding yields, while the dollar fell to its lowest point in almost a year. Commodity prices surged.
The Dow Jones industrial average (INDU) gained 56 points, or 0.6%, ending close to 10-month highs. The S&P 500 (SPX) index added 9 points, or 0.9%, ending close to 11-month highs. The Nasdaq composite (COMP) advanced 19 points, or 0.9% and ended at the highest point since Oct. 1, 2008.
Last week, Wall Street ended a choppy week lower as investors hunkered down after a strong August and ahead of the long holiday weekend. All financial markets were closed Monday for Labor Day.
But Wall Streeters returned in better spirits Monday, scooping up a variety of stocks, led by the commodities sector.
A more than 4% spike in oil prices and gold prices that briefly topped $1,000 gave a lift to the influential commodities sector. Dow stocks Chevron (CVX, Fortune 500) and Exxon Mobil (XOM, Fortune 500) were the biggest gainers on the blue-chip average. A rally in metals stocks lifted the Gold Bugs (HUI) index by 1%.
Tempering the advance was a selloff in some of the financial shares that rallied late in the summer, including Fannie Mae (FNM, Fortune 500), Freddie Mac (FRE, Fortune 500), Citigroup (C, Fortune 500) and AIG (AIG, Fortune 500). Dow component Travelers (TRV, Fortune 500) also retreated.
"We've had an amazingly strong summer," said Ben Halliburton, chief investment officer at Tradition Capital Management. "As the rate of decline has slowed in profits and revenues, stocks have improved."
All three major markets rose between 11% and 13% over the summer. But after such a run, "it's show-me-the-money time for the economy and profits in the third quarter," Halliburton said. "The improvements have to start or people are going to doubt the rally and back out."
September is typically a tough month for Wall Street as market pros return from their summer vacations with a cleaning-house mentality. It is the worst month on Wall Street in terms of percentage losses for the Dow, S&P 500 and Nasdaq composite, according to Stock Trader's Almanac.
Over the last few weeks, the S&P 500 seesawed across 1000, a key psychological level that traders watch. That seesawing may continue for the next few weeks, said Todd Salamone, director of trading at Schaeffer's Investment Research.
"We expect the S&P 500 to battle between around 980 and 1060," Salamone said. "There's no big commitment to accumulate stocks at this point."
He said that stocks may not move much in one way or the other until at least the middle of October, when the third-quarter profit reports start to pour in.
Company news: Hopes that a period of dealmaking could resume helped nudge the advance along Tuesday.
Kraft Foods (KFT, Fortune 500) shares slumped almost 6% after British candy maker Cadbury (CBY) spurned its $16.7 billion takeover offer. However, the company, a Dow component, said it would continue to pursue a merger. Cadbury shares jumped 38%.
General Electric (GE, Fortune 500) shares rallied 4.5% after JPMorgan upgraded the stock to "overweight" from "neutral."
Among other movers, Opexa Therapeutics (OPXA) surged 270% after a mid-stage study showed that at least 83% of patients taking its multiple sclerosis drug had not relapsed one year later.
Economy: Leaders from the world's 20 biggest economies, meeting over the weekend, agreed to continue to provide stimulus to support the global recovery.
Consumers cut their borrowing in July by $21.6 billion, the most on records dating back to 1943. Economists thought credit would fall by $4 billion. Credit fell by a revised $15.5 billion in June.
World markets: Global markets gained after gold topped $1,000 an ounce. In Europe, London's FTSE 100, France's CAC 40 and the German DAX all gained modestly.
In Asia, the Japanese Nikkei gained 0.7% and the Hong Kong Hang Seng added 2.1%.
Oil and gold: U.S. light crude oil for October delivery rose $3.08 to settle at $71.10 a barrel on the New York Mercantile Exchange.
COMEX gold for December delivery rose $3.10 to settle at $999.80 an ounce after surpassing $1,000 earlier in the session.
Bonds and currency: Treasury prices fell, raising the yield on the benchmark 10-year note to 3.46%, from 3.44% late Friday. Treasury prices and yields move in opposite directions.
In currency trading, the dollar fell versus the euro and the Japanese yen.
Market breadth was positive. On the New York Stock Exchange, winners topped losers three to one on volume of 1.32 billion shares. On the Nasdaq, advancers beat decliners eight to five on volume of 2.04 billion shares.
How does your portfolio look nearly one year after the collapse of Lehman Brothers? What investment choices hurt you or helped you the most? What strategy changes are you making for the future? Tell us your story. E-mail realstories@cnnmoney.com and your thoughts could be part of an upcoming story. For the CNNMoney.com Comment Policy, click here.

Features

These Fortune 100 employers have at least 350 openings each. What are they looking for in a new hire? More

It would be the world's second-biggest economy. See how big companies' sales stack up against GDP over the past decade. More