The Merrill Lynch bonus saga drags on
Bank of America and the SEC exchange jabs, but ask federal judge once again to sign off on $33 million settlement over bonuses paid to Merrill execs.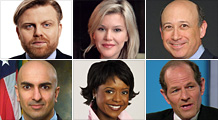 Would panic prevail? That was the question gripping the world in the days surrounding the fall of Lehman Brothers on Sept. 15, 2008. One year after that terrifying Monday, the people who struggled to cope with the financial crisis share what they were thinking as chaos broke out.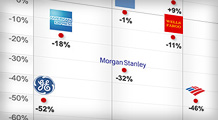 Key financial firms received a wide range of assistance during the past year. But scroll over their stocks and you'll find few winners – and plenty of losers.
More
NEW YORK (CNNMoney.com) -- Bank of America and regulators once again urged a federal judge to uphold a $33 million settlement tied to the disclosure of Merrill Lynch bonuses.
In two separate court filings made Wednesday, both the Charlotte, N.C.-based bank and the Securities and Exchange Commission defended the proposed settlement the pair struck in early August.
The settlement followed an SEC investigation into bonus payments made to Merrill executives earlier this year. BofA announced it was buying Merrill on the day that Lehman Brothers collapsed last September. The deal was completed in January.
Regulators have claimed that BofA had said in its proxy statement that it would not pay out bonuses to Merrill employees in fiscal year 2008, when, in fact, the bank authorized bonus payments of as much as $5.8 billion. Of that allowance, $3.6 billion was paid out in 2008 to more than 39,000 Merrill employees.
U.S. District Court Judge Jed Rakoff, who is overseeing the case, has been reluctant to sign off on the settlement just yet however.
Late last month, he demanded more details from both parties, including why Bank of America (BAC, Fortune 500) agreed to settle with the SEC if it did not conceal the bonus payments to its shareholders.
In Wednesday's filing, BofA maintained that it did not want to be distracted by a lengthy court battle with one of its main regulators at a time of market uncertainty.
"There is nothing nefarious about that," the company said in a court document.
Bank of America has also come under scrutiny for maintaining it relied on the advice of its attorneys when it drafted its proxy statement for 2008, which would have disclosed to shareholders what it planned to pay Merrill executives.
That same thorny issue has also been a stumbling block in a separate investigation into the Merrill Lynch bonus scandal by New York State Attorney General Andrew Cuomo.
In a letter issued Tuesday to Bank of America's law firm, Cuomo's office indicated it had not made a determination whether to bring charges against the banks or its executives because the company had invoked the attorney-client privilege.
The bank fired back in its court filing Wednesday, rejecting the idea that anyone at Bank of America or Merrill Lynch ever invoked such a defense, adding that they merely relied on the advice of their lawyers.
The SEC, which issued its own sharp criticisms of BofA Wednesday, has also faced tough questions about the settlement. Rakoff asked the agency last month why it did not seek a higher penalty against the bank and why the agency failed to bring charges against any single individual for signing off on the bonus payments.
Regulators, however, defended the appropriateness of the penalty Wednesday, saying that it achieved an "appropriate balance" between the need to deterrence and harming Bank of America shareholders, who would ultimately be asked to cover any settlement.
"The proposed $33 million penalty in this case strikes that balance," the agency said.
Rakoff was originally due to rule on the matter Wednesday, although the timetable for his decision remains unclear following the latest disclosures.

Features

These Fortune 100 employers have at least 350 openings each. What are they looking for in a new hire? More

It would be the world's second-biggest economy. See how big companies' sales stack up against GDP over the past decade. More