12% of eligible borrowers helped by Obama plan
Some 360,165 delinquent borrowers getting help, up from 235,247, or 9%, a month ago. Treasury wants loan servicers to do more.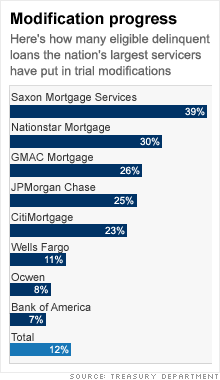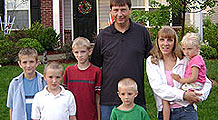 Homeowners in trouble are having mixed results applying for President Obama's foreclosure prevention plan. CNNMoney.com readers tell us their tribulations and triumphs trying to get their loans modified or refinanced.
NEW YORK (CNNMoney.com) -- Mortgage servicers have picked up the pace of loan modifications over the past month, after coming under fire for not doing enough to help troubled borrowers.
Servicers have placed 12% of eligible troubled borrowers into trial modifications under President Obama's foreclosure prevention plan, the Treasury Department said Wednesday.
The progress report, the second issued by the government, says that 360,165 homeowners who were at least two months behind in payments received relief through August. A month ago, just 9%, or 235,247 borrowers, were in trial modifications.
The program had gotten off to a rocky start, but officials said Wednesday that servicers should hit their goal of 500,000 loan modifications under way by Nov. 1.
"Our progress in implementing these programs to date has been substantial, but we recognize that much more has to be done to help homeowners," said Michael Barr, an assistant Treasury secretary, in prepared testimony before a House Financial Services Committee panel Wednesday.
The $75 billion initiative was announced in February and the first institutions to join began accepting applications in April. The plan, which is projected to help up to 4 million homeowners, calls for servicers to reduce the monthly payments of eligible borrowers to no more than 31% of their pre-tax income. Qualified borrowers are put into three-month trial modifications before the adjustment is made final.
Some 47 servicers are now participating in the Obama program, up from 38 servicers a month ago. Financial institutions, borrowers and mortgage investors all receive incentives for participating in the program.
Servicers' performance, however, was once again all over the map. Saxon Mortgage Services led the pack for a second month with 39% of its eligible delinquent borrowers in trial modifications, up from 25% a month ago.
JPMorgan Chase (C, Fortune 500) led the large banks with 25%, up from 20%, and Citigroup (C, Fortune 500) at 23%, up from 15%. Wells Fargo (WFC, Fortune 500) came in at 11%, up from 6%. Bank of America (BAC, Fortune 500) put 7% of its eligible borrowers in trial modifications, up from 4% a month earlier.
By releasing the servicers' progress reports each month, the administration is hoping to hold institutions responsible for their performance. The updates will allow the public to see which institutions are lagging in implementing the plan.
After the report came out last month, servicers acknowledged they needed to improve their performance and promised to do better in the future.
Wells Fargo said Wednesday that it has increased the number of its borrowers in trial modifications by 64% over the past month. The company expects to exceed its goal of putting 60,000 homeowners in trial adjustments by Nov. 1. It has 33,172 trial and final modifications underway.
Bank of America said it has doubled the number of its customers in the trial phase under the Home Affordable Modification Program to more than 68,000 since the last report.
"We are working hard and with a strong sense of urgency to ensure HAMP's success," Jack Schakett, the bank's credit loss mitigation strategies executive, said in prepared testimony.
Many borrowers, however, don't feel their servicers are on their side. They are complaining that servicers are not responding to their calls and applications, losing their paperwork or not making decisions. The financial institutions said they are ramping up their staffing and computer systems to handle the crush of applications.
Still, servicers need to continue bolstering their ranks and improving their training, Barr said.
"All servicers can do more than they are doing now," he said. "Servicers need to do a better job reaching out to borrowers."
The government is also implementing new measures aimed at improving the program, Barr said. Treasury officials are establishing codes that servicers will have to use for reporting denials to the administration and to borrowers. Many homeowners have complained they are denied without explanation.
Officials are also working to streamline application documents and develop Web tools where borrowers can get forms and check the status of their request. Servicers and housing counselors have said these steps can speed the process.
If servicers don't ramp up their efforts, Rep. Barney Frank, D-Mass., is willing to reintroduce legislation that would allow bankruptcy judges to lower the amount owed on primary residence. The financial services industry strong opposes this measure, which was defeated in the Senate this spring.
"The best lobbyists we have for getting bankruptcy legislation passed are the servicers who are not doing a very good job of modifying mortgages," said Frank, who chairs the House Financial Services committee. "And if they do not improve their performance, then they improve the chances of that legislation."
Despite the administration's and servicers' efforts, the housing market is still in trouble. The number of people falling behind on their payments continues to mount, especially as unemployment rises.
A record number of foreclosure filings were posted in July, according to RealtyTrac. There were more than 360,000 properties with foreclosure filings -- including default notices, scheduled auctions and bank repossessions -- an increase of 7% from June and 32% from July 2008.

Features

These Fortune 100 employers have at least 350 openings each. What are they looking for in a new hire? More

It would be the world's second-biggest economy. See how big companies' sales stack up against GDP over the past decade. More