Steve Jobs unveils new iPods
Apple's CEO gets a standing ovation when he made a return to the stage for the first time at a company event since October 2008.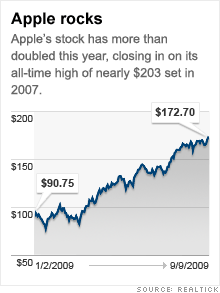 NEW YORK (CNNMoney.com) -- Apple Chief Executive Steve Jobs announced several new products in a keynote address at a company event in San Francisco on Wednesday, making his first appearance at an Apple event in nearly a year.
He received a standing ovation that lasted 45 seconds.
Jobs has not appeared at an Apple event since Oct. 14, 2008, when he unveiled a new lineup of Macintosh computers including the ultra-thin MacBook Air. He was on a sabbatical for the first six months of 2009 due to health-related issues, which included a liver transplant.
"I'd like to thank everyone in the Apple community for the heartfelt support," said Jobs. "I'm vertical, back at Apple and loving every day of it."
Tim Cook, Apple's chief operating officer, took the reins during the CEO's absence, and delivered the keynote address at the World Wide Developer's Conference in June -- the last major Apple event.
IPods. Apple unveiled a new iPod lineup Wednesday, including new Nanos with video cameras, and slashed most of the music players' prices.
The iPod Nano got the biggest upgrade, with a video camera, FM radio that can be paused live, a voice recorder and a pedometer built into the MP3 player. The new iPod Nano will come in anodized aluminum in nine colors and is available in 8GB and 16GB versions, available for $149 and $179.
The iPod Touch will be available in 8GB, 32GB and 64GB, for $199, $299 and $399. The two higher-end versions will be 50% faster, Apple announced.
Despite rumors to the contrary, Apple decided to keep the iPod Classic, bumping up capacity to 160GB from 120GB.
And the iPod shuffle will be offered in five different colors, comes with an adapter so it will work with any headphones, and got a price cut to $59 for the 2GB model and $79 for the 4GB version.
Apple also announced that it has sold 30 million iPhones and 20 million iPod Touches, giving the iPod a 73.8% market share.
ITunes 9 and the new App Store. Jobs introduced two other new products, including iTunes 9, which has a new look and a handful of new features, including "LP mode," in which users can download song lyrics, art, and band and song information.
Users will also be able to download bonus features for movies, move files from one computer to up to five others and post information about songs and albums directly to Facebook. And a new "Genius Mixes" feature will automatically create up to 12 playlists of songs that go well together from a user's iTunes library.
The new iTunes store features easier navigation with a cleaner layout and bigger image display. ITunes 9 is currently available for download.
Apple's music store has recorded 8.5 billion downloads, and 100 million customers have accounts, Jobs said.
For iPhone and iPod Touch users, Apple unveiled iPhone OS 3.1, which will allow users to download ringtones for iPhone users for $1.29 each. These are pre-made ringtones, unlike the ones users can currently make for themselves in iTunes. Apple made 30,000 of the ringtones available on Wednesday.
The App Store in OS 3.1 will also begin to make recommendations for applications using the same "Genius" recommendation technology that works on songs in iTunes. Jobs also said the new OS fixes some bugs from the previous version. IPhone and iPod touch users can download the new OS for free.
Too much hype? Most of Wednesday's announcements were widely rumored before the event. As a result, some and investors analysts were a bit underwhelmed.
Shares of Apple (AAPL, Fortune 500) fell 1% after Wednesday's event.
"It's very good to see Steve Jobs back, but the expectations were blown out of proportion," said Trip Chowdry, analysts with Global Equities Research. "The products are very good, but a camera on an MP3 player? That's innovation? Apple will have to come out with a category killer like the iPod or iPhone to continue to drive revenues higher."
Wednesday's Apple event coincided with the legendary band's release of its new "Rock Band" video game and digitally remastered CD box set.
The Beatles are one of the few bands whose music has never been approved for sale as downloads on the popular music site.

Features

These Fortune 100 employers have at least 350 openings each. What are they looking for in a new hire? More

It would be the world's second-biggest economy. See how big companies' sales stack up against GDP over the past decade. More