Foreclosures: The struggle continues
The number of bank repossessions drops sharply in August, but the pipeline of troubled borrowers remains full. Calm before the storm?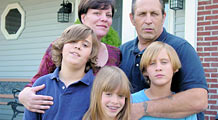 After losing their homes, these 4 families thought they'd never recover. They've found it difficult to rent and their credit is wrecked, but life is looking up.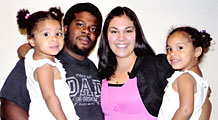 These 7 new homeowners stepped up their house-hunting to take advantage of the first-time buyer tax credit.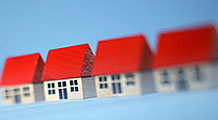 The national median home price fell 11.4% during the third quarter of 2009. Check how prices fared in your hometown..
More
NEW YORK (CNNMoney.com) -- The foreclosure crisis grinds on amid signs of hope.
A report released Thursday shows that substantially fewer people had their homes repossessed in August.
Unfortunately, a large number of Americans are still falling behind on their payments.
A total of 76,134 troubled borrowers lost their homes in August, but that is 12.7% fewer than in July, according to RealtyTrac, an online marketer of foreclosed properties.
The pipeline of troubled borrowers remains full, however. Filings of all kinds dropped only slightly, just 0.5%, from July.
According to RealtyTrac spokesman Rick Sharga, there are a couple of possible explanations for the decline in bank repossessions, called REOs in the industry.
"It could be that the government-led mortgage modification programs are finally gaining some traction," he said. "But it could also be that the banks are still delaying repossessions of these properties."
Because banks take big losses on REOs, they may leave delinquent borrowers in their homes, especially where lenders already have a substantial amount of vacant, unsold inventory. Presumably, the borrowers are caring for the properties, which saves banks the time and expense of upkeep and maintenance.
Plus, there is always hope that some of these borrowers will "self-cure" -- or catch up on their loans without assistance -- which is better for banks' bottom lines. In fact, a recent report from the Boston branch of the Federal Reserve found that 30% of borrowers who have missed two mortgage payments eventually become current.
Increases in short sales could also be reducing the repossession statistics, according to Duane LeGate, president of HBN Interactive, a short-sale specialist. These are transactions in which lenders allow borrowers to sell their homes for less than what they owe.
"A lot of banks are delaying the foreclosure process if they see any kind of chance of making a reasonable short sale," he said.
The reprieve in repossessions could be coming to an end, however. Sharga expects a spate of payment problems to start this fall as interest rates reset on some of the exotic mortgage products that proliferated during the boom. Option ARMs (adjustable rate mortgages) in particular will be a big problem.
A Fitch Ratings report released last week forecast that of the $200 billion in option ARMs outstanding, $29 billion will reset to fully amortizing loans by year's end, and another $67 billion will recast in 2010. The average payment increase will be 63%, or $1,053 a month -- an impossible hurdle for many borrowers.
These loans are named for the options they give borrowers. They can pay at a minimum rate, which does not even cover interest; at an interest-only rate; at a fully amortizing 15-year rate; or at a fully amortizing 30- or 40-year rate.
More than 60% of all option ARM borrowers, and more than 80% of all option ARMs issued in 2006 and 2007, often pay just the minimum amount, according to First American LoanPerformance.
That means the principal balances of these loans actually grow. And when they get too large, somewhere between 110% and 125% of the original loan amount, the lender will convert the loan into a fully amortizing mortgage. That usually results in payment shock, a huge jump in monthly mortgage costs.
"We're in the soup for at least another year," Sharga said.
That could mean a third dismal year of foreclosures. So far this year 540,222 homes have been lost to repossession, which is on par with the first eight months of 2008.
Where it's worst
Six states account for 60% of all foreclosure filings, according to the RealtyTrac report. California, where many option ARMs were issued, leads with more than 92,000 filings, followed by Florida with more than 62,000. Michigan is next with more than 19,000; Nevada, whose foreclosure rate of one for every 62 households was the highest in the nation, and Arizona both had close to 18,000. Illinois recorded more than 13,000.
California homeowners also lost more properties to repossession than any other state. There were 14,590 in August, twice the number of Florida, which was the second worst-hit state with 6,446.
Still, those figures show month-over-month improvement. In California, the August total was down nearly 32% from July, and Florida showed a 4.6% improvement. REOs also steeply fell in Arizona (down 16.7%) and Nevada (off 23.8%).
The list of cities worst hit by total foreclosure filings include many names familiar from past months. Las Vegas had the nation's highest foreclosure rate, with 16,798 filings, or one for every 47 housing units.
Second was another repeat offender, Stockton, Calif., where one of every 62 homes had a filing. Modesto, Calif. was third with one in 63.

Features

These Fortune 100 employers have at least 350 openings each. What are they looking for in a new hire? More

It would be the world's second-biggest economy. See how big companies' sales stack up against GDP over the past decade. More