3 more down: Bank failure tally hits 92
Regulators close banks in Illinois, Minnesota and Washington at a cost of more than $2 billion to the FDIC.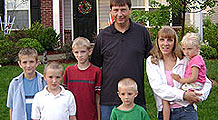 Homeowners in trouble are having mixed results applying for President Obama's foreclosure prevention plan. CNNMoney.com readers tell us their tribulations and triumphs trying to get their loans modified or refinanced.
DID YOUR BANK FAIL?
For more information visit www.fdic.gov
Don't panic – your savings are insured
Keep paying your loans – the terms remain the same.
The FDIC will notify you by mail about your accounts/loans.
Contact the FDIC with any questions until further notice
If your bank is purchased, you will be contacted by your new bank.
NEW YORK (CNNMoney.com) -- Regulators closed one large bank in Illinois on Friday in one of the biggest collapses of the year, while two other smaller failures pushed the 2009 total to 92.
Customers of the banks, however, are protected. The Federal Deposit Insurance Corp, which has insured bank deposits since the Great Depression, covers customer accounts up to $250,000.
In Illinois, 16 banks have failed so far this year, including Chicago-based Corus Bank, which was closed by the Office of the Comptroller of the Currency on Friday.
Corus, which operated 11 branches, had deposits of about $7 billion and total assets of around $7 billion assets, the FDIC said.
MB Financial Bank, which is also based in Chicago, will acquire all of the failed bank's deposits and agreed to buy $3 billion of its assets. Much of Corus' assets are condo loans backed by developments, and the FDIC is expected to sell them off within the next 30 days.
"This is our third FDIC transaction this year and we are pleased to provide a safe and secure home at MB for Corus customers," said Mitchell Feiger, chief executive of MB Financial, in a statement.
Two smaller banks were also shuttered on Friday night.
In Minnesota, Brickwell Community Bank, which operated one branch in Woodbury, was closed by state officials.
Mitchell, S.D.-based CorTrust Bank will take over Brickwell's $63 million in deposits and will purchase "essentially all" of its $72 million in assets, the FDIC said.
And in Washington state, Venture Bank of Lacy was closed by state regulators.
First-Citizens Bank & Trust Company in Raleigh, N.C., took over all of the deposits of Venture Bank.
Venture Bank had 18 branches that will reopen Saturday as branches of First-Citizens Bank & Trust Company. As of July 28, Venture Bank had assets of $970 million and deposits of about $903 million. First-Citizens Bank agreed to purchase some $874 million of the assets.
So far this year, the number of banks closed by regulators is nearly four times the number of banks that failed in 2008, and it's the highest tally since 1992, when 181 banks failed.
The majority of this year's failures have been small, regional banks that fell victim to losses on real estate and consumer loans as unemployment surged to a 25-year high.
The wave of failures is expected to continue, raising concerns about the size of the FDIC's fund.
The cost of Friday's bank failures to the FDIC is an estimated $2 billion.
Over the next five years, the FDIC expects roughly $70 billion in losses due to the failure of insured institutions.

Features

These Fortune 100 employers have at least 350 openings each. What are they looking for in a new hire? More

It would be the world's second-biggest economy. See how big companies' sales stack up against GDP over the past decade. More