Hired! Show the employer who's boss
Anne Giapapas got a job by pointing out a potential employer's weaknesses.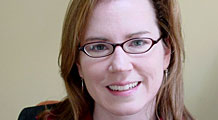 Meet some of CNNMoney.com's trusted career coaches and hear their best advice for finding a job.
jobs by

Find a Job
NEW YORK (CNNMoney.com) -- Getting a job is simple when you've got a lot to offer an employer.
Anne Giapapas knew she had plenty to offer. So she landed a job at a downsizing company by proving she could add value.

Giapapas, 25, was laid off as en event planner in January, just as layoffs nationwide reached their peak, and knew she had a tough road ahead of her.
"There was not much out there at all," she said of other employment opportunities. But reluctant to relocate from her home in San Luis Obispo, Calif., Giapapas knew it would take more than sheer determination to find a job.
So instead she strategized. "I put together a portfolio, not just a résumé, and presented myself in the way that I would be helping them rather than they would be helping me by giving me a job."
Then she reached out to the contacts from her previous job. "I was able to get leads on where help might be needed or on companies I could prove needed help."
One contact told her about a potential position at Embassy Suites in San Luis Obispo. But the company had already been downsizing and hiring was at a standstill. Still, Giapapas landed an interview.
"I did research about what was lacking in the company and how I could come fill that void," she said.
During the interview, Giapapas presented her case. "I could raise their sales and improve their profitability as a wedding venue," she suggested. Two weeks later, Embassy extended her a job offer. Although the position as catering sales manager came with a 20% pay cut, Giapapas says she prefers this job to her previous position, and has already booked multiple weddings.
Our career experts agree that in this market it pays to be proactive.
Vivian Van Lier, president of Advantage Résumé & Career Services based in Los Angeles, encourages her clients to come up with a proposal to either increase revenue stream, improve productivity or cut costs.
"Stop acting like a job applicant and start acting like a problem solver," said Ford Myers, president of Career Potential, LLC, a Pennsylvania-based career consulting firm, and author of the book, "Get the Job You Want, Even When No One's Hiring."
Myers also advises job seekers to find the employer's pain point, and then propose effective solutions. "If you propose it as a way to make the company more efficient or profitable or productive then it will be well received," he said.
He says other job seekers should follow Giapapas' lead by aligning their assets and experience with the company's problems and challenges.
"Every employer is hiring all the time if you have what they need when they need it," Myers said.
Your proposal can either be presented during an interview or as a follow up, Myers said. "In many ways you are creating a job that didn't exist before and you're the only candidate."
"The person who goes beyond the competition and is willing to set themselves apart, that is the person who is going to shine," agreed Van Lier.
Read updates on the people previously profiled in Hired! Join the Hired! group on Facebook.
Have you found a job recently? We want to hear from you. Send us an email and attach a photo. Tell us where you got hired and how you landed the job and you could be profiled in an upcoming story on CNNMoney.com. For the CNNMoney.com Comment Policy, click here.

Features

These Fortune 100 employers have at least 350 openings each. What are they looking for in a new hire? More

It would be the world's second-biggest economy. See how big companies' sales stack up against GDP over the past decade. More