Fixing the financial rules: Slow going
A year after the big panic, Obama is still pushing for new oversight. Some fear an improving economy and health care focus may further slow momentum.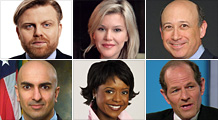 Would panic prevail? That was the question gripping the world in the days surrounding the fall of Lehman Brothers on Sept. 15, 2008. One year after that terrifying Monday, the people who struggled to cope with the financial crisis share what they were thinking as chaos broke out.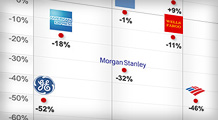 Key financial firms received a wide range of assistance during the past year. But scroll over their stocks and you'll find few winners – and plenty of losers.
More
WASHINGTON (CNNMoney.com) -- Just a month after taking office, President Obama asked Congress to move fast to reform the "outdated" system of financial oversight and install "tough, new common-sense rules of the road" for Wall Street.
Now, as Obama gave a major address on Monday marking the one-year anniversary of the Lehman Brothers collapse, things haven't advanced very far.
Obama urged Congress to pass his proposed reforms.
"We have to live up to our responsibilities on financial reform," he said. "There will be those who argue we should do less or nothing at all. But to them I'd say only this: Do you believe that the absence of sound regulation one year ago was good for the financial system? Do you believe the resulting decline in markets and wealth and employment was good for the economy? Or the American people?"
Congress has moved only sluggishly on a set of changes that are more modest than the overhaul originally envisioned. It is likely that the patchwork system of regulatory agencies will remain mostly intact.
Meanwhile, traders continue to buy and sell unregulated and complex financial products, like those sold by bailed out insurance giant AIG (AIG, Fortune 500).
None of the administration proposals under consideration would eliminate the conflicts that can occur when bond issuers pay credit rating agencies to evaluate their financial products.
Big Wall Street pay checks might get more thorough scrutiny, but they won't be subject to strict limits.
One of the most far-reaching proposals -- the creation of an agency to regulate consumer financial products like mortgages and credit cards -- has faced a tough beating by industry lobbyists. The U.S. Chamber of Commerce has pledged another $2 million, and probably more, to a campaign to kill it.
And every day that the economy improves and the health care fight sucks up more congressional energy, momentum to overhaul the financial system is lost.
"The clock is ticking and we're at a cross roads," said Travis Plunkett,chief lobbyist for the Consumer Federation of America. "If we don't see a substantial move this fall, financial reform may wither on the vine."
What's been done so far?
The biggest push happened this spring, when Congress passed changes to credit card laws aimed at helping consumers buried in debt.
However, the Federal Reserve was already moving to implement many of the same changes later next year, and many card issuers have raced to hike rates ahead of the new laws that make such hikes tougher.
The House has logged the most progress. On July 31, it voted 237-185 for a bill that gives shareholders the chance to use nonbinding votes to speak their minds on executive pay.
The executive compensation bill also empowers regulators to create new rules to limit bonuses tied to risk-taking at firms with more than $1 billion in assets. But it doesn't impose any hard caps like those being called for in Europe.
The House is expected to begin voting on other reforms in late September or October, starting with a bill to create the new consumer watchdog agency.
The Senate is a different story. It hasn't passed anything other than the credit card bill.
Staffers for the leaders of the Senate Banking Committee worked throughout the summer on an all-encompassing financial reform bill. Congressional watchers say it could be released later this month.
But the health care debate could push negotiations over the most complex financial proposals to next year.
"When you're dealing with the future of the charters and the bank regulatory system ... it's all very complicated and it's going to take a very long time," said Washington policy analyst Brian Gardner of investment firm Keefe Bruyette & Woods.
Status of key proposals
Regulating consumer products: The first and biggest fight will be over the creation of the Consumer Financial Protection Agency.
The agency would be empowered to examine and subpoena information from banks. It would also create templates for basic financial products, such as fixed-rate, 30-year mortgages. More complicated mortgages would have to spell out how they differ from "plain-vanilla" financial products.
The industry opposes that level of oversight. While some agree on the need for more consumer protections, "the debate is how best to achieve it," said Scott Talbott of the Financial Services Roundtable, a lobbying group.
On the other side, consumer advocates don't like one possible compromise -- strengthening consumer protection departments at existing agencies.
Policing risk: Experts agree that Congress will likely give more power to existing regulators to prevent the biggest financial firms from over-borrowing or making other overly risky business moves.
On the table is a plan to grant more authority to the Federal Reserve, with some backstop help from other agencies.
But some key players, including Senate Banking Committee Chairman Sen. Chris Dodd, D-Conn., and Federal Deposit Insurance Corp. head Sheila Bair, have argued against making the Fed a super-regulator. They instead back a strong regulatory council with multiple agencies.
Many banks and financial institutions support the idea of a more unified system of oversight. But some analysts believe that such a change might not be the cure people hope for.
"I don't know how much it'll help," said Douglas Elliott, a former investment banker and now a fellow at the Brookings Institution. "It's very hard to be the one that steps out in front and says I know what you've been saying, but we think you're wrong and we're not going to let you do it."
Winding down firms in trouble: There's more agreement around the idea of giving the FDIC, which now has the job of taking over troubled banks, more power to do the same to big investment firms and insurers.
Still, the proposal is complicated. For one thing, most big firms have smaller subsidiaries, some of which are regulated by state regulators.
Former Fed Chair Paul Volcker and SEC Chairman Mary Schapiro have warned that instituting a powerful new "resolution authority" could have the unintended consequence of creating a safety net for big institutions that make bad decisions.
Derivatives: The Obama administration is proposing new rules for derivatives, which are financial products whose value is derived from something else, such as a stock or commodity.
The administration wants big firms that sell derivatives to meet new capital requirements. They also want derivatives to be traded on clearinghouses -- markets that could add more transparency to the value of derivatives.
But the clearinghouses would only apply to the most common derivatives and leave more specialized derivatives mostly unregulated.
-CNN's Ed Henry contributed to this report.

Features

These Fortune 100 employers have at least 350 openings each. What are they looking for in a new hire? More

It would be the world's second-biggest economy. See how big companies' sales stack up against GDP over the past decade. More