Ex-Bear chief sees Lehman silver lining
Alan Schwartz said the firm's collapse spurred fiscal policymakers around the world to finally cooperate, but added that Lehman's failure was 'unfortunate.'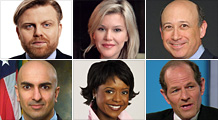 Would panic prevail? That was the question gripping the world in the days surrounding the fall of Lehman Brothers on Sept. 15, 2008. One year after that terrifying Monday, the people who struggled to cope with the financial crisis share what they were thinking as chaos broke out.
NEW YORK (Fortune) -- The collapse of Lehman Brothers was "unfortunate" but spurred the global policy coordination that ultimately saved the financial system, former Bear Stearns chief executive officer Alan Schwartz said in his first interview since Bear's fall last year.
Schwartz, who is now executive chairman at investment firm Guggenheim Partners, defended regulators' decision to allow Lehman's failure a year ago. He said that while Lehman was a "great institution" whose collapse saddened him, saving the firm "could have caused ripple effects" that would have been criticized as well.
"The quarterback that has to call the play ... has the hardest job," Schwartz told CNNMoney.com's Poppy Harlow in an exclusive video interview. The two were joined by Dick Parsons, the chairman of Citigroup (C, Fortune 500) and former CEO of Time Warner, which owns CNNMoney.com and Fortune.
Schwartz said making Federal Reserve emergency loans available to Bear Stearns might have forestalled its collapse in March 2008. But he admitted that the firm might not have survived the "once-in-a-generation tsunami" that swept the capital markets last fall, overwhelming Lehman and prompting the government to prop up Fannie Mae, Freddie Mac and AIG.
"I had hoped that the policies post-Bear Stearns would keep that from happening to any other institution," Schwartz said, referring to government policies that enabled investment banks for the first time to borrow directly from the Federal Reserve. "I felt awful that [Lehman] was going through a situation that I knew they couldn't control."
Lehman filed for bankruptcy the morning of Sept. 15, 2008, after then Treasury Secretary Henry Paulson and other policymakers failed in their efforts to broker a sale of the investment firm to a better capitalized partner such as Barclays or Bank of America (BAC, Fortune 500).
Within days, all hell broke loose in the financial markets. Shares of a top money market fund that had been speculating in commercial paper -- the short-term loans issued by highly rated corporations -- "broke the buck," falling below $1 after Lehman's default left the fund with millions of dollars of losses.
Soon thereafter, federal officials extended an $85 billion emergency loan to prevent insurer AIG (AIG, Fortune 500) from following Lehman into bankruptcy, and the Federal Reserve hastily converted the two remaining independent investment banking firms -- Goldman Sachs (GS, Fortune 500) and Morgan Stanley (MS, Fortune 500) -- into bank holding companies to make sure they wouldn't run out of cash.
By the end of the month, the nation's sixth-largest bank, Washington Mutual, had failed, and a bigger rival, Wachovia, was being shopped to prospective buyers by the Federal Deposit Insurance Corp. It ended up being sold to Wells Fargo (WFC, Fortune 500) in a deal without taxpayer assistance.
"No one anticipated the results of the Lehman collapse," said Parsons.
Lehman's failure came six months after Bear ran out of money and was sold with Federal Reserve support to JPMorgan Chase (JPM, Fortune 500). Schwartz, who appeared on CNBC just days before that emergency sale to claim the firm had adequate cash on hand, told CNNMoney.com he believes the firm was a victim of what he called "collusion" among those betting against Bear but admitted that "no one can prove it."
"We believed our liquidity was sound," Schwartz said. "Whether there was collusion involved, nobody knows."
Whatever his regrets about Bear, Schwartz -- who had replaced longtime Bear chief Jimmy Cayne as CEO just two months before the firm's implosion -- did see a silver lining in the Lehman fiasco.
Until the firm's failure, he said, European regulators were loath to join their American and U.K. counterparts in loosening monetary policy and providing emergency aid to the financial sector. But after the freeze of credit markets that followed Lehman's bankruptcy, global coordination started -- and not a moment too soon.
"I think that was a necessary ingredient for saving the financial system," he said.