Stocks spike to 1-year highs
Economic optimism helps Wall Street extend gains, with the Dow, Nasdaq and S&P hitting the highest points since fall '08.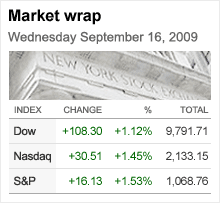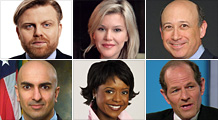 Would panic prevail? That was the question gripping the world in the days surrounding the fall of Lehman Brothers on Sept. 15, 2008. One year after that terrifying Monday, the people who struggled to cope with the financial crisis share what they were thinking as chaos broke out.
NEW YORK (CNNMoney.com) -- Stocks gained Wednesday, pushing Wall Street to its highest level in a year, with a rise in industrial production and a spike in commodity prices and equities fueling the advance.
The Dow Jones industrial average (INDU) gained 108 points or 1.1%, closing at the highest point since Oct. 6, 2008. The S&P 500 (SPX) index rose 16 points or 1.5% and closed at its highest point since Oct. 3 of last year. The Nasdaq composite (COMP) rose 30 points or 1.5% and was on track to close at its highest point since Sept. 26, 2008.
"Market friendly news over the last several weeks has created a more upbeat tone on Wall Street," said Michael Sheldon, chief market strategist at RDM Financial Group.
"The question going forward is whether this is too much euphoria given the somewhat uncertain outlook for the consumer and financial markets as we head into 2010," he said.
After the close, Oracle (ORCL, Fortune 500) reported weaker quarterly revenue that missed forecasts. The software maker's quarterly earnings of 30 cents per share were in line with forecasts. Shares slipped in extended-hours trading.
Federal Reserve Chairman Ben Bernanke said Tuesday that the recession is likely over although the job market will still struggle. That upbeat economic sentiment stretched into Wednesday's session and was helped along by the day's news. The major indexes have now gained for 8 of the last 9 sessions.
The combination of improving economic news and fiscal and monetary stimulus has helped boost stocks over the last six months. Since bottoming at a 12-year low in March, the Dow has gained 47% and the S&P 500 has gained 55%. Since bottoming at a 6-year low, the Nasdaq has gained 65%.
With the exception of a 7% pullback in late June and early July that preceded the start of the second-quarter financial reporting period, the market has essentially been on the upswing for months, with occasional sideways lulls.
Despite worries that the rally has outpaced the economic recovery, the market "just doesn't seem to want to fall," said Gary Flam, portfolio manager at Bel Air Investment Advisors.
"In April and May the market was rallying despite a lack of good economic news," Flam said. "Now that you are getting better news, including Bernanke's comments, it's hard for investors to sit on the sidelines."
He said that while the market seems to be avoiding the widely-predicted back-to-school selloff, it could hit resistance in November when a number of the government stimulus programs peter out.
Stock gains Wednesday were broad based, with 24 of 30 Dow components rising, led by General Electric (GE, Fortune 500), Boeing (BA, Fortune 500), IBM (IBM, Fortune 500), 3M (MMM, Fortune 500), McDonald's (MCD, Fortune 500), Chevron (CVX, Fortune 500) and Exxon Mobil (XOM, Fortune 500).
The Dow's financial shares gained too, with American Express (AXP, Fortune 500), Bank of America (BAC, Fortune 500), JPMorgan Chase (JPM, Fortune 500) and Travelers (TRV, Fortune 500) all advancing.
A variety of bank shares rallied, with the KBW Bank (BKX) index rising 4%.
Tuesday was the one-year anniversary of the collapse of Lehman Brothers and 11th-hour buyout of Merrill Lynch by Bank of America. In the year since then, the major indexes have seesawed violently, but are currently just below those 2008 levels.
Economy: Industrial production gained 0.8% in August after rising 1% in the previous month. Economists surveyed by Briefing.com thought it would rise 0.6%. Capacity utilization rose to 69.6% from a revised 69% previously. Economists expected no change.
The Consumer Price index (CPI), a measure of consumer inflation, rose 0.4% in August versus forecasts for a rise of 0.3%. There was no change the previous month. So-called core CPI, which strips out volatile food and energy prices, rose 0.1% after rising 0.1% in the previous month.
Company news: Verizon Communications (VZ, Fortune 500) slipped 2% after UBS downgraded it to "neutral" from "buy," according to published reports.
Adobe (ADBE) shares fell around 6% after the software maker said late Tuesday it was buying e-commerce firm Omniture (OMTR) for about $1.8 billion.
Anheuser-Busch InBev (BUD), the maker of Bud beer, began trading Wednesday on the New York Stock Exchange 10 months after it was bought by Belgian brewer InBev. Shares gained 2%.
Currency and commodities: The dollar fell versus other major currencies, hitting a 9-month low against the euro and a 7-month low against the yen.
The falling greenback boosted dollar-traded commodities including oil and gold.
U.S. light crude oil for October delivery rose $1.58 to settle at $72.51 a barrel on the New York Mercantile Exchange. In addition to the impact from the weak dollar, crude oil prices were also reacting to the government's weekly inventories report, which showed crude supplies fell more than expected in the latest week.
COMEX gold for December delivery rose $13.90 to settle at $1020.20 an ounce, a record high.
Bonds: Treasury prices rose, lowering the yield on the benchmark 10-year note to 3.43% from 3.45% late Tuesday.
Treasury prices and yields move in opposite directions.
World markets: Global markets rallied. In Europe, London's FTSE 100, France's CAC 40 and Germany's DAX all gained at least 1%. Asian markets ended higher.
Market breadth was positive. On the New York Stock Exchange, winners topped losers by almost five to one on volume of 1.58 billion shares. On the Nasdaq, advancers topped decliners by two to one on volume of 2.80 billion shares.
Volume was higher than in recent days, in part because of the impact of the quarterly options expiration Friday. On Friday, stock index futures and options, and individual stock futures and options all expire at the same time. That can create volatility in the days leading up to the expiration and the day of the expiration.

Features

These Fortune 100 employers have at least 350 openings each. What are they looking for in a new hire? More

It would be the world's second-biggest economy. See how big companies' sales stack up against GDP over the past decade. More