Stocks set to extend gains
Optimism about economy after Bernanke's comments seen boosting the markets. Consumer inflation rises, as expected.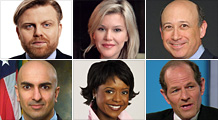 Would panic prevail? That was the question gripping the world in the days surrounding the fall of Lehman Brothers on Sept. 15, 2008. One year after that terrifying Monday, the people who struggled to cope with the financial crisis share what they were thinking as chaos broke out.
NEW YORK (CNNMoney.com) -- U.S. stocks appeared set for a positive start Wednesday as upbeat sentiment about the economic outlook carried over from the previous session.
At 8:40 a.m. ET, S&P 500, Nasdaq-100 and Dow Jones industrial average futures were higher, showing little reaction to a consumer inflation report that stayed within the range of expectations.
Futures measure current index values against their perceived future performance and offer an indication of how markets may open when trading begins.
Wall Street hit new 2009 highs Tuesday after Federal Reserve chief Ben Bernanke said the recession was "very likely over," though he added that the job market's recovery will be slow. A solid retail sales report also helped stocks rally.
"It certainly helped to have Bernanke give his seal of approval, but even more, I think it was the retail number," said Bruce McCain, chief market strategist for Key Private Bank in Cleveland.
"It wasn't just the Cash for Clunkers program, as it appeared in July," he said. "Activity is picking up and the economy is coming back online. We just need the spark of spending that kicks everything off."
Economy: A government report showed that inflation at the consumer level rose 0.4% in August. The Consumer Price index was expected to have risen 0.3% in August after showing no change in July, according to a consensus of economist opinion from Briefing.com.
The core CPI, without including volatile food and energy prices, edged up 0.1%, matching expectations from the Briefing.com consensus.
Companies: Adobe (ADBE) said late Tuesday that it was buying Web analytics firm Omniture (OMTR) for about $1.8 billion. The move is part of the software firm's bid to make itself more competitive in the world of online commerce.
World markets: Asian stocks tracked Wall Street's gains and rose to their highest level all year. European indexes were higher in midday trading.
Money and oil: The dollar slipped versus the euro and the yen, but gained against the pound. The price of oil slid 19 cents to $70.74 a barrel.

Features

These Fortune 100 employers have at least 350 openings each. What are they looking for in a new hire? More

It would be the world's second-biggest economy. See how big companies' sales stack up against GDP over the past decade. More