When a banking feud got physical
The second except from Duff McDonald's forthcoming book, Last Man Standing, about a dust-up that may have sealed Jamie Dimon's fate at Citi.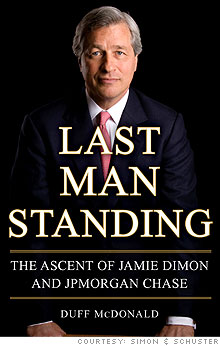 Bailout tracker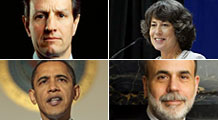 The government is engaged in a far-reaching - and expensive - effort to rescue the economy. Here's how you can keep tabs on the bailouts.
More
NEW YORK (Fortune) -- In the second of a two-part excerpt from journalist Duff McDonald's new book, Last Man Standing, Fortune offers up the account of an embarrassing confrontation that led to Jamie Dimon's ouster from Citigroup by Sandy Weill.
--Editor's Note: This story contains profanity.
Citicorp CEO John Reed didn't quite know what he was in for when he agreed to a meeting with Sandy Weill in early 1998. He thought Weill was going to ask him to spend $25,000 on a table at a charity dinner, or something of that sort. Instead, Weill proposed a merger of equals between the Travelers Group and Citicorp, a combination of the two firms that would sit powerfully atop the financial world. He proposed sharing the leadership role as co-CEOs, and splitting the board 50/50 with directors from both companies.
Reed did not reject the idea out of hand, and the two companies' deal teams agreed to meet at the Travelers' Executive Conference Center in Armonk, New York on March 20 and 21. Over the next two days, the deal teams hashed out much of the conceptual framework for a merger, including a name -- Citigroup -- and a plan that the company would have three main divisions: the Corporate Investment Bank, the Consumer Business, and Asset Management. Given the regard in which executives from both sides held him, Jamie Dimon would be president of the parent company, beneath co-CEOs Weill and Reed. But that was just a corporate job. When it came to operations, Dimon quite reasonably assumed that he would be put in charge of running the corporate investment bank, the same job he had shared with Deryck Maughan at Salomon Smith Barney. Instead, Reed suggested (and Weill agreed to) a power-sharing arrangement in which Dimon, Maughan and Victor Menezes, Citicorp's head of commercial banking, would be co-CEOs. (Weill first suggested Dimon and Maughan. Then Reed suggested the three-way power-sharing arrangement, so as to not alienate the Citicorp crowd by putting two Travelers people in charge. )
This was bad enough for Dimon, but what he did not even consider, given his place on the boards of Travelers and its predecessor companies, was the possibility that he would not be on Citigroup's board. So he was shocked when in mid-March, as Weill went over details of the deal, that he informed his long-time lieutenant, "Jamie, you're not going to be on the new board."
Dimon protested, making the argument that he would be one of the only presidents of a major public company not on its board. In other words, it was an embarrassment, a snub. But Weill was resolute. "We've decided." Frustrated as Dimon was with what he saw as the unfairness of the situation, he somehow failed to grasp the larger implication of Weill's remark. Weill had begun to dismantle what had been corporate America's longest-running, best-known, and widely lauded succession plan.
Despite Weill trying to sweet-talk him into believing that the president title meant he was well positioned, Dimon saw the empty title for what it was. "I should have left the company at that point. You'd think by then I might have figured it out, but I didn't. I accepted that too, didn't I? Sandy knows exactly how far he can go. I loved the company. It was my family. I couldn't leave them. But Sandy doesn't always think about just right or wrong; he thinks about his options down the road. The board decision was the sign, and I should have known better. But look, you live and learn."
Dimon and Maughan, who had been openly hostile before the merger, were now engaged in full-scale warfare. Salomon was getting destroyed in the bond markets -- it was during that fall that the collapse of hedge fund Long-Term Capital Management had sent global capital markets into a tailspin -- and Dimon criticized Maughan at every turn. While Dimon quite likely assumed that he would eventually work his way through this predicament and reclaim his position as Weill's heir, he was definitely playing with a weaker hand than in years past. Sandy had other courtiers now, including Maughan and general counsel Chuck Prince, the company's future CEO. (Mary McDermott, Weill's longtime head of public relations, remembers Prince as "the quintessential ass-kisser" during this time.) Finally, Dimon's constant nay-saying also hurt him in Reed's eyes, especially considering the nonconfrontational ethos Reed had so meticulously installed at Citicorp. (Both Reed and Prince declined to comment).
On the weekend of October 24, 1998, the 15-year partnership between Jamie Dimon and Sandy Weill collapsed in a way that almost nobody saw coming. The occasion was a five-day retreat for 150 top executives and their spouses at The Greenbrier, the luxury resort in White Sulphur Springs, West Virginia. During presentations by various business heads, Weill recalls being struck by the difference between a polished Maughan presentation and an "incoherent" one by Dimon, including "a strange analogy with the Peloponnesian War." Weill felt that Dimon's apparent lack of preparation was insulting and that he seemed anything but "presidential" as a result. Dimon's memory about the quality of his presentation is hazy, but the suggestion that his career be judged on one presentation at an executive retreat rankles. "Maybe I didn't give a good presentation," he says. "But do you think it's acceptable to judge a 15-year career on one presentation?"
Then, during a black-tie ball on Saturday night, Dimon and his wife Judy sat with Salomon Smith Barney capital markets head Steve Black and his wife Debbie. In a gesture that could have moved things in another direction entirely, Black turned to Debbie and told her he was going to ask Maughan's wife, Va, to dance as a peace overture. The couple went over together to where the Maughans were dancing, and he politely cut in. Maughan, however, failed to return the gesture, leaving Black's wife standing alone on the dance floor. Embarrassed, Debbie Black began to cry.
As if that weren't sufficiently "high school", the situation quickly devolved further. After comforting his wife, Black lost his temper, marching over to Maughan -- who is not a small man, standing some 6'3" -- and seized him by the flesh of his arm. "You fucking asshole," he said. "You can do whatever you want with me, but if you ever do something like that to my wife again, I will drop you where you stand."
Expecting a fight, Black was surprised when Maughan simply turned and walked away. Black had momentarily forgotten who wore the pants in the Maughan family. Moments later, an enraged Va Maughan came steaming across the dance floor headed right for him. Sticking her finger in his chest, she said, "Don't you ever talk to my husband like that again. You can't talk to my husband like that."
At this point, Dimon tuned in. "What was that all about?" he asked Black after Va Maughan had retreated. After hearing Black's side of the story, Dimon himself became enraged, and went off to find Maughan. "Deryck," he said, when he tracked him down. "If you snubbed her by accident, explain it. If you did it on purpose, that's a whole different thing." Once again, Maughan responded by turning away, at which point Dimon grabbed him and spun him around, tearing a button from his jacket in the process. "Don't you ever turn your back on me while I'm talking!" he shouted. "You popped my button!" was all Maughan offered in reply. (Maughan declined to comment).
Nobody came out of the night's events looking good -- not Black, not Dimon, not Maughan. And all three paid a steep price. Maughan would be kicked upstairs at Citigroup (C, Fortune 500); Black would resign. (Judy Dimon looks back on the entire weekend as a bit of an out-of-body experience, the kind of thing you can't bring yourself to believe is actually happening.)
Remarkably, Dimon failed to see that the incident had sealed his fate. On Friday evening, October 30, he sat in his office with his assistant Theresa Sweeney and asked her what changes she thought would come out of a Sunday management meeting in Armonk. It was his belief that the management structure would finally be adjusted to his advantage at the meeting. It never crossed his mind that his own ouster was in the works. He was so oblivious that he had invited 100 Salomon Smith Barney brokers over to his apartment at 1185 Park Avenue on Sunday for brunch. Then Weill called, asking him to come up to Armonk early.
In Armonk, Weill and Reed sat Dimon down in a small conference room. "We've done a lot of thinking about the organization...and John and I have decided to make the following changes," said Weill. "Deryck is going to move to a strategy job, Victor will take the Global Bank, and Mike Carpenter will run Salomon Smith Barney." That last one threw Dimon for a loop, as that was his job. But Weill wasn't quite done. "And...we want you to resign."
Dimon offered only a one-word reply: "Okay." Weill asked him if he wanted to know why. "Nope," replied Dimon. "I'm sure you thought it through." Reed was stunned. "Is that it?" he asked. "Well, yeah," replied Dimon. "You've obviously decided."
In February 1999, Dimon filed with the Securities & Exchange Commission to sell 800,000 shares of Citigroup worth some $42.5 million, thus formally severing his ties with Citigroup...and Weill. Dimon also severed ties with most people he considered Weill partisans. A year later, he moved to Chicago to head the struggling Bank One. In 2004, he returned in triumph to New York in a merger that made him the CEO and Chairman of JPMorgan Chase. And five years later, he is a titan of the banking world, one of the victors of the financial crisis.
For his part, Sandy Weill retired as chairman of Citigroup in 2006. A retirement party was held in the Egyptian Room at the Metropolitan Museum, and the guest list included former president Bill Clinton and Saudi Prince Alwaleed bin Talal. Dimon attended, but kept a low profile. Although a few dozen people spoke in tribute to Weill's lengthy career, Dimon was not among them. He wore a regular business suit to the black tie event, and though he did greet people beside Weill for a bit, he left before the party got going. "You know what they say about cars that have been in a wreck?" muses a former colleague about the relationship between two men. "You can send them to the body shop, but they're never going to be the same."
Today, if and when the two men do run into each other, things are civil, but no longer warm. The days when they'd plan on drinks once or twice a year are over. Still, enough time has passed that each will grudgingly admit that the other has traits worth praise. "Sandy wasn't a mentor in the traditional sense," Dimon recalls. "In the sense of people giving you advice and sitting you down. That's what most people mean. I got none of that. Sandy was much more sink or swim and he just shed people left and right who didn't meet his standards, but it wasn't really a mentoring thing. He had a tremendous work ethic, and he was always thinking about how the world was going to change. He was brave and bold. I learned a tremendous amount from him. To do the deals that we did? I look back at those and think, 'God, Sandy, you had guts.'"
In December 2008, in his corner office in the General Motors Building, Weill was subdued. The markets were in complete and utter turmoil, and Citigroup, the company he built, was on the verge of being broken apart. A few blocks away, Dimon presided over JPMorgan Chase, (JPM, Fortune 500) the bank widely considered the sole standout of the financial crisis. During the interview, Weill came close to admitting the biggest mistake of his career: firing Jamie Dimon. "I think I made a very bad decision on succession," he said. Today, he only has the highest compliments for his one-time protégé. "Jamie obviously has far fewer blind spots than most people in this business. He's outperformed most of them."
Part two of two parts excerpted from Last Man Standing: The Ascent of Jamie Dimon and JP Morgan Chase, by Duff McDonald, to be published by Simon & Schuster on October 6, 2009. © Duff McDonald
Read Part one from Last Man Standing excerpt