Pre boosts Palm smartphone sales 134%
Palm records a big loss and steep revenue decline, but smartphone sales jump on the back of the new Pre.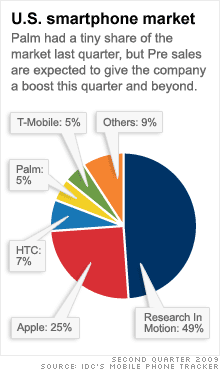 NEW YORK (CNNMoney.com) -- Palm Inc.'s smartphone sales rose 134% to 823,000 units during the latest quarter on the back of the new Pre, but the company still reported its ninth consecutive quarterly loss and sales fell 81%.
The company also announced that it will offer approximately 16 million shares of common stock for "working capital and general corporate purposes."
Shares of Palm (PALM) fell slightly after rising by as much as 9% after hours.
The much-hyped Pre smartphone helped boost Palm's smartphone shipments from 351,000 in the prior quarter. The company did not separate Pre sales from other Palm phones, but experts forecasted Pre shipments of about 520,000, according to Matthew Thornton, analyst at Avian Securities.
"With the launch of the Pre, we accomplished one of our most crucial milestones," said Jon Rubenstein, Palm's chief executive, on a conference call with investors. "Now we're focused on growth. We're confident we're on the path to success."
Financials: The Sunnyvale, Calif.-based company lost $164.5 million, or $1.17 per share in its fiscal first quarter, ended Aug. 31. That's 293% wider than the $41.9 million loss the company recorded during the same time last year.
Results did not include deferred income of $1.07 per share. Including that revenue, which is deferred over the life of customers' smartphone contracts, Palm said it would have lost 10 cents per share. Analysts polled by Thomson Reuters, who included that income in their estimates, forecasted a loss of 25 cents per share.
Sales fell to $68 million. But the company's sales were also impacted by deferred revenues from phone contracts. If the revenue was not deferred, Palm said it would have taken in $360.7 million of sales, beating analyst forecasts of $291 million in adjusted sales.
Palm has endured a difficult couple of years as its once revolutionary PDA products were outdone by Apple's (AAPL, Fortune 500) iPhone and Research In Motion's (RIMM) BlackBerry. But analysts expect the Pre's new critically acclaimed WebOS operating system will help the Palm become a third major smartphone maker, especially as it offers its new phones on other carriers next year after its exclusive contract with Sprint (S, Fortune 500) expires in 2010.
"We're making significant progress with Palm's transformation, and our culture of innovation is stronger than ever," said Rubinstein. "We're launching more great Palm WebOS products with more carriers, and turning our sights toward growth."
Palm said the company will continue to be impacted by lower demand for its older products, and anticipates adjusted revenue for the current quarter between $240 million and $270 million. That's significantly lower than the $397 million analysts expected.
Palm said its overall shipment numbers for the current quarter would likely have been even higher, but said the Pre cannibalized sales of the company's older phones like the Treo and Centro.
Outlook: Palm said the company's more distant future is much brighter. Palm plans to launch more products with additional carriers starting in 2010, and anticipates full-year revenue will be between $1.6 billion and $1.8 billion, topping analysts' forecast of $1.58 billion.
"Palm wound down its old operations that were unprofitable and really built its new business around WebOS," said Thornton. "The legacy products are still part of the mix, which are weighing on the company's margins."
Thornton said WebOS has legs, and Palm will likely introduce several new phones on that platform in the coming quarters. Last week, Palm unveiled its new Pixi phone, which is a smaller version of the Pre and will go on sale later in 2009.
But the company also announced that it had cut the Pre's price last week after just three months on the market, worrying some analysts that sales were dropping off.
Palm's stock has soared 359% this year after the company first unveiled the Pre in January. Still, some analysts argue the stock is undervalued for a company of great potential, and with a market capitalization of just $2 billion, an acquisition can't be ruled out.
"If someone is looking to get into the smartphone game, there's some logic to acquiring the Pre," said Thornton. "They have the distribution, and recognizable brand and a good competitive platform."

Features

These Fortune 100 employers have at least 350 openings each. What are they looking for in a new hire? More

It would be the world's second-biggest economy. See how big companies' sales stack up against GDP over the past decade. More