Bank failure toll reaches 94
Regulators close subsidiaries of Irwin Financial Corporation in Kentucky and Indiana at a cost of $850 million to the FDIC.
Map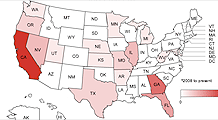 DID YOUR BANK FAIL?
For more information visit www.fdic.gov
Don't panic – your savings are insured
Keep paying your loans – the terms remain the same.
The FDIC will notify you by mail about your accounts/loans.
Contact the FDIC with any questions until further notice
If your bank is purchased, you will be contacted by your new bank.
NEW YORK (CNNMoney.com) -- Regulators closed subsidiaries of Irwin Financial Corporation in Kentucky and Indiana Friday, bringing the total number of bank failures this year to 94, according to the Federal Deposit Insurance Corp.
Customers of the bank, however, are protected. The FDIC, which has insured bank deposits since the Great Depression, currently covers customer accounts up to $250,000.
Irwin Union Bank and Trust Company and Irwin Union Bank, F.S.B. operated a combined 27 branches in nine U.S. states. Both banks were run by Columbus, Ind.-based Irwin Financial Corp.
First Financial Bank, NA, which is based in Hamilton, Ohio, will assume all of the deposits of the two banks.
"Since all deposits are being assumed by First Financial Bank, there will be no losses to any depositor," Claude Davis, president and chief executive officer of First Financial, said in a statement.
Irwin Union B&T, of Columbus, Ind., had total assets of $2.7 billion and total deposits of approximately $2.1 billion. Irwin Union, F.S.B., of Louisville, Ky., had total assets of $493 million and total deposits of approximately $441 million.
On Thursday the banks' parent company, Irwin Financial Corp., said in a regulatory filing that it had "no realistic prospect of achieving the required capital levels," required by its regulators.
The FDIC said customers of the failed banks will be able to access their money over the weekend by writing checks or using ATM or debit cards. Checks will continue to be processed, and borrowers should make their payments as usual.
A total of 94 banks have failed so far this year, with an average of about 10 per month. That's nearly four times the number of banks that failed in 2008, and it's the highest tally since 1992, when 181 banks failed.
This year's failures have reduced the FDIC's insurance fund to $10.4 billion from $45 billion a year ago. However, the agency has said it has $42 billion available for bank rescues over the next 12 months.
The cost of Friday's closures to the FDIC is an estimated $850 million.
Earlier Friday, FDIC chairman Sheila Bair said bank regulators will meet at the end of the month to discuss ways to replenish the agency's funds, including the possibility of borrowing from the U.S. Treasury.
Bair also said the FDIC could use some lesser-known methods to raise money, such as requiring banks to prepay assessments or issuing a note.

Features

These Fortune 100 employers have at least 350 openings each. What are they looking for in a new hire? More

It would be the world's second-biggest economy. See how big companies' sales stack up against GDP over the past decade. More