Jobless rate tops 12% in 5 states
California, Nevada and Rhode Island hit record-high unemployment rates, Labor Department says.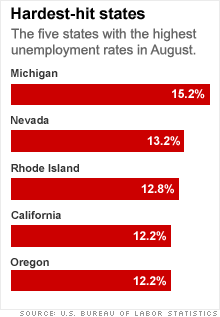 Map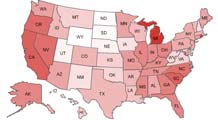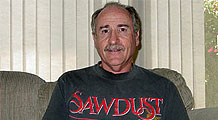 In July, CNNMoney.com told the stories of 4 out-of-work Americans who had just lost their unemployment benefits. Here's where they are today.
NEW YORK (CNNMoney.com) -- Five states posted jobless rates above 12% in August, according to federal data released Friday.
California, Nevada and Rhode Island each hit record-high rates, the Labor Department said.
Michigan led the nation in unemployment, with a rate of 15.2%, while Nevada was next at 13.2% and Rhode Island was third at 12.8%. California and Oregon were tied for the fourth spot, each with unemployment at 12.2%.
"The losses tend to be heavy in states that have a high concentration of manufacturing jobs or were hit hard by the housing bust," said Mark Vitner, economist at Wachovia.
In August, 27 states and the District of Columbia recorded month-over-month unemployment rate increases, while 16 states posted a decrease in unemployment and seven saw rates hold steady.
The total number of nonfarm jobs fell in 42 states and the District of Columbia, while 8 states saw an increase.
The state-by-state unemployment report for August came after the government reported earlier this month that American employers cut 216,000 jobs in August, sending the nationwide unemployment rate to 9.7% from 9.4% in July.
Lowest rates: North Dakota posted the lowest jobless rate in August, at 4.3%. It was followed by South Dakota, at 4.9%; Nebraska, with 5%; Utah, at 6%, and Virginia, at 6.5%.
"The states with the lowest rates tend to have fewer metropolitan areas," Wachovia's Vitner said. "When you consider how a city like Las Vegas dominates Nevada's economy, you can see how that weakness could devastate a state."
Biggest over-the-year increases: All states and the District of Columbia recorded statistically significant increases in their jobless rates from August 2008.
Michigan reported the largest unemployment rate increase over the year, at 6.6 percentage points.
Three other states saw rates climb more than 5 percentage points: Nevada's unemployment rate has climbed 6.2 points year over year, while Oregon's rate jumped 5.7 points, and Alabama's rate increased 5.2 points. West Virginia saw the fifth-largest annual increase of 4.8 percentage points.
Largest over-the-month increases: Six states posted statistically significant over-the-month unemployment rate increases in August.
New Mexico's was highest, at 0.5 percentage points, followed by New Jersey, New York and Oregon -- all three of which reported a 0.4 point increase.
California and Iowa each posted a 0.3 point increase over the month. The District of Columbia also reported a jump, of 0.5 percentage points.
Biggest over-the-month decreases: Four states reported statistically significant decreases in unemployment over the month.
Indiana's jobless rate dropped by 0.7 percentage point, Colorado's fell 0.5 percentage point, and Kansas and Virginia fell 0.4 point each.
On Wednesday, Congress will consider legislation that would extend unemployment benefits by 13 weeks for people who live in states with jobless rates higher than 8.5%.

Features

These Fortune 100 employers have at least 350 openings each. What are they looking for in a new hire? More

It would be the world's second-biggest economy. See how big companies' sales stack up against GDP over the past decade. More