Wine buying for vultures
Undertones of overproduction and a whiff of desperation have created the perfect climate for getting pricey vintages at record low prices.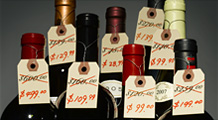 Prices have dropped in the fine wine market due to the recession. Oenophiles can celebrate with these exceptional wines that have been discounted.
(Fortune Magazine) -- There's an oft-repeated bit of eno-philosophy that says the wine business is immune to recession because people drink in good times and bad. But it turns out there's a caveat: In bad times such as these, they mostly drink the cheap stuff.
That means vintners who sell wine for $10 or less are raking in money, but everyone else is getting squeezed -- which can be a very good thing for the savvy wine buyer. From restaurants to tasting rooms, clearinghouses to supermarkets, high-end wines -- some of which were impossible to get a few years ago -- are suddenly within reach.
"The tide has gone out. I don't want to say you can smell the stinking garbage, but you can see all the terrain of the beach," says Victor Schwartz, founder and president of V.O.S. Selections, a fine-wine importer and distributor in New York and New Jersey. "If you look at what's going on in Bordeaux, it's traumatic. It's just stopped dead. With Burgundy, you can name your number. Go in and negotiate with your wine dealer, and you'll pick up some incredible Burgundy! We dropped our prices bigtime."
A glass half full
The increasing number of bargains can be traced back to the restaurant scene. In a good year a vintner like Silver Oak, whose Napa Valley Cabernet Sauvignon goes for about $100, sells as much as 70% of its inventory to restaurants. Not lately.
Consumers are dining out less frequently, and when they do go out, they order further down the wine list or even (gasp) by the glass. "Restaurants stopped buying when the writing was on the wall last November and December," says Silver Oak president and CEO David Duncan.
The cellars of Michael Mina's 15 restaurants are still clogged. "If I buy a bottle for $100 from Napa Valley -- and believe me, there are hundreds -- I'll mark it up to $225. But no one is buying those," says wine director Rajat Parr at RN74 in San Francisco. As a result, Parr is saying no to all Napa Cabernets until customers drink what's left.
Desperate for cash flow, wineries and distributors first try to grease wine buyers like Parr with discounts -- hence all the "half-price-wine night" specials at restaurants lately. Offering wholesale discounts means taking a revenue hit, but it doesn't undermine brand perception with consumers.
Some wineries also turn to clearinghouses like Wines Til Sold Out (winestilsoldout.com), which offer fleeting deals to members -- 30% to 70% off list.
The Grand Cru curse
The last option is to lower retail prices. As Schwartz notes, deals on high-end Bordeaux and Burgundies are especially prevalent. French wine sales have fallen 25% this year, and distributors are facing backlogs, even of Grand Crus.
What's more, high-end chateaus, which produce tens of thousands of cases a year, aren't just competing with one another. They're competing with their own great vintages of yesteryear -- '82, '86, '89 -- many of which are widely available for less than a current release.
Even Napa Valley, with its minuscule volume, isn't immune to the downturn. One of Napa's iconic Cabernets, Caymus Special Selection, typically sells for $160 or more. This year San Francisco's K&L Wine Merchants, a major U.S. retailer, has it for $109.
Still too pricey? No matter how much you spend, you'll be drinking better than you could have a year or two ago.
In a recent inspection of a Safeway, I found a $71 Far Niente Chardonnay and a $67 Artemis Cabernet from Stag's Leap Wine Cellars each discounted to $45. The Beaulieu Vineyards tasting room is jammed with blowout deals, from a case of $250 rosé reduced to $99 to half off an $800 magnum of Cabernet.
Joining a "cult"
Even the cult scene is a buyer's market. Two years ago high-end Cabernets from Screaming Eagle, Bryant Family, and Harlan Estates were nearly impossible to buy except at huge markups in the secondary market. But just as in the housing sector, there's been an exodus of flippers.
"We've had a waiting list as long as five years, but we [dug deeper] into that list last fall than we have at any time before," says Bill Harlan, owner of Harlan Estates, which sells its Cabernet blend for $500 to mailing-list members. "If ever there was a time to get on a waiting list from a winery that has had a long wait, it's now."
Napa producers are reticent on the subject of discounting. Some even deny the practice in the face of evidence to the contrary. But a handful have realized that lowering prices in tough times can have a positive message.
"We took the position [to lower the price], probably for a limited time, to entice people to taste the 2006, which is a great vintage," says Xavier Barlier, marketing director for Maisons Marques & Domaines, the U.S. distributor of Dominus. "There's no way to hide from the recession."
Maybe not, but you might as well enjoy a nice bottle while it lasts.