Twitter CEO Evan Williams' penthouse for sale
Williams tweets his San Francisco two bedroom is a 'steal' at $1,498,000.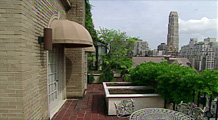 The New York City home where Bernard Madoff spent his last days has a buyer, reportedly at near the $8.9 million asking price. Take a peek inside.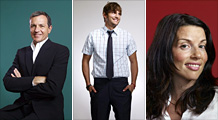 These tech-world luminaries - photographed during our recent Brainstorm Tech conference - aren't just changing the game; they've defined it. Photographs by Robyn Twomey.
NEW YORK (CNNMoney.com) -- Late Thursday afternoon Twitter CEO Evan Williams tweeted "Buy my loft...It's a steal!" And with that, the listing went viral.
Though Williams and his wife, Sara Morishige, had listed their penthouse for sale on Sept. 25, it wasn't until the tweet that the digital masses noticed. Which begs the question: If you don't tweet something, did it really happen?
The couple is trying to sell their two-bedroom, two-bath San Francisco loft for $1,498,000, just $2,000 less than what they paid for it two and a half years ago. Still, that's quite a bit above the neighborhood's median sales price of $522,500, according to real estate Web site Trulia.com.
But at least buyers can score some of their furniture, including the couch (yes, fan boys, the very one Williams sat on), because it doesn't "necessarily fit the feeling of [their] new house," said the loft's listing agent, Eric Turner of McGuire Real Estate.
The loft's price also includes two side-by-side parking spots and remote controlled blinds. (Hooray, technology!)
The 1,792-square-foot penthouse is located in San Francisco's SoMA district in the historic concrete Heublein Building. Real estate agents, like Turner, sell the former wine warehouse as offering a Manhattan vibe with cityscape views.
"The building is unique because it blends the old historical feel but is updated and has a really nice subtle contemporary feel," said Turner.
The Heublein was converted in 1990 and offers two units with large private patios. The penthouse is one of them.
Perhaps hosting barbeques in the very same spot the social media royalty threw their bashes will imbue the new owner with some serious Web 2.0 mojo. Williams did, after all, just score a $1 billion valuation for Twitter, and sold his first startup, Blogger, to Google.
The building doesn't offer amenities such as doormen, a gym, a swimming pool and concierge service, but it is surrounded by the city's notable restaurants, including Bacar and Coco 500.
The couple, who welcomed their son, Miles, almost two months ago, is leaving the building of young professionals and empty nesters to move into a four-bedroom, three-bathroom house with a Victorian-style exterior façade in Noe Valley.

Features

These Fortune 100 employers have at least 350 openings each. What are they looking for in a new hire? More

It would be the world's second-biggest economy. See how big companies' sales stack up against GDP over the past decade. More