Manhattan home prices flattening
After substantial drops over the past year, Big Apple prices stabilized during the third quarter.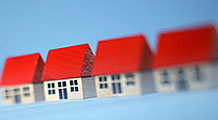 The national median home price fell 11.4% during the third quarter of 2009. Check how prices fared in your hometown..
More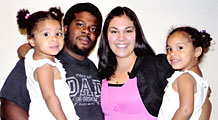 These 7 new homeowners stepped up their house-hunting to take advantage of the first-time buyer tax credit.
NEW YORK (CNNMoney.com) -- The cost of entry onto crowded Manhattan island, one of the most expensive real estate markets in the nation, may have gotten a little steeper in the past three months. Or not.
Reports released Friday by four of the city's biggest real estate agencies showed very different results. By one calculation, the median price of a home rose 1.7% to $850,000 in the past three months; but another expert said it declined by 1.8% to $791,000.
Jonathan Miller of the New York appraisal firm Miller Samuel tallied the increase for Prudential Douglas Elliman, a premier real estate brokerage firm in the city. Gregory Heym, the chief economist for brokers Halstead and Brown Harris Stevens, posted the declines.
A fourth broker, the Corcoran Group, put the median price of an apartment sold during the quarter at $799,000, a 6% drop from the spring.
But one thing they all agreed on is that year-over-year prices fell substantially: 8.4%, according to Miller; 14%, said Heym; and a whopping 18%, noted Corcoran Group.
The observed prices can vary simply because the agencies use different data, said Pam Liebman, CEO of Corcoran. For example, its Sunshine Group division, which concentrates on new condo sales, might have earlier access to its sales and have counted them as sold, while Miller and Heym don't have that information until the sales are actually registered, which could take a few weeks.
Still, all three believe the data show that the market is stabilizing.
"The interesting thing about this," said Liebman, "was that lower prices drove people back into the market." She cited a 16% increase in the number of properties sold compared with a quarter earlier.
The number of Corcoran listings for sale fell to 9,718 homes at the end of the quarter from 12,338 at the beginning, a 21% drop.
"Prices came down and people came back," said Liebman. "We saw a surge of activity."
Miller reminded, however, that this "doesn't mean we're at the bottom. There's still more pain to come."
Bill Staniford, CEO of PropertyShark.com, which compiles Corcoran's data, is also predicting that prices could drop a bit more, though not substantially. And the comparative bargains, factoring in low mortgage rates, are luring some buyers back.
"There's still plenty of money sitting on the sidelines," he said. "The biggest problem is obtaining financing."
Miller echoed that. "Underwriting requirements are the most stringent I've ever seen," he said.
Many buyers of high-end homes forgo mortgages entirely. "I've been asking brokers about high-end sales ($5 million plus), whether their clients got a mortgage or not," Miller said. "The answer is always no. I've never seen so many all-cash deals."
If lenders start to ease underwriting again, it could trigger a rush of deals.

Features

These Fortune 100 employers have at least 350 openings each. What are they looking for in a new hire? More

It would be the world's second-biggest economy. See how big companies' sales stack up against GDP over the past decade. More