Stocks jump again
Weaker dollar and Australian rate hike spur investors, with the Dow posting a triple-digit gain for the second straight day.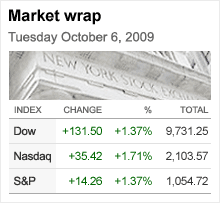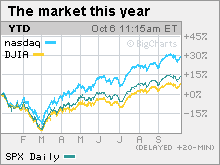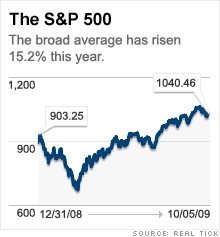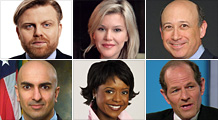 Would panic prevail? That was the question gripping the world in the days surrounding the fall of Lehman Brothers on Sept. 15, 2008. One year after that terrifying Monday, the people who struggled to cope with the financial crisis share what they were thinking as chaos broke out.
NEW YORK (CNNMoney.com) -- Wall Street rallied Tuesday, gaining for a second straight session as a weaker dollar boosted commodities and dollar-sensitive stocks, fostering a broad-based advance.
The Dow Jones industrial average (INDU) rose 132 points, or 1.4%. The S&P 500 (SPX) index gained 14 points, or 1.4%, and the Nasdaq composite (COMP) rose 35 points, or 1.7%.
The runup had been stronger through midday, but lost some steam as the dollar cut losses and financial shares turned mixed to negative.
Gains were broad-based, with 29 of 30 Dow stocks rising as investors piled into a variety of stocks battered in a two-week selloff. Worries that the rally had gotten ahead of the recovery caused the selloff at the end of the third quarter and start of the fourth.
But that decline of just over 4% on the S&P 500 seemed to give investors the entry point they were looking for to jump back into stocks.
"I think most people believe that stocks are going to generally keep drifting higher for the next few months," said Gary Webb, CEO at Webb Financial Group. "So while nothing fundamental has changed this week, investors are taking opportunities to buy on the lows."
"We've seen a lot of these elevator moments over the last month, these short, sharp pullbacks that ended up bringing people back in," said Fred Dickson, chief market strategist at D.A. Davidson & Co. "That's what we're seeing here."
Investors also welcomed reports that Australia became the first major economy to lift interest rates since the start of the financial crisis.
Meanwhile, the falling dollar boosted gold to an all-time high of $1,045 an ounce during the session and $1,039.70 at the close. The weak U.S. currency was also good for the stocks of multi-national companies that benefit from a weaker dollar.
A weaker-than-expected response to a government debt auction dulled some of the shine on the rally.
Economy: An upbeat reading on the services sector helped spark Monday's advance, but there was little else on the docket until Wednesday when readings on consumer credit and the Treasury budget are due.
Seven months and counting: A rally in U.S. stocks that started in March, petered out late September at the end of an otherwise upbeat third quarter. In the July-September period, the Dow and S&P 500 both jumped 15%, their best quarter in a decade, while the Nasdaq rose 15.7%, its best quarter in six years.
But the September selloff was modest amid the broader rally that's been in place since last March. Since bottoming at a 12-year low March 9, the S&P 500 has gained 56%, and the Dow has gained 49% as of Tuesday's close. After hitting a six-year low, the Nasdaq has gained nearly 68%.
On the move: The broad advance benefited a number of stocks and sectors.
Materials and commodities stocks surged, including Dow components Alcoa (AA, Fortune 500), DuPont (DD, Fortune 500), Chevron (CVX, Fortune 500) and Exxon Mobil (XOM, Fortune 500).
The Dow's other biggest gainers were Caterpillar (CAT, Fortune 500), Hewlett-Packard (HPQ, Fortune 500), IBM (IBM, Fortune 500), JPMorgan Chase (JPM, Fortune 500) and United Technologies (UTX, Fortune 500).
Market breadth was positive. On the New York Stock Exchange, winners topped losers by almost four to one on volume of 1.23 billion shares. On the Nasdaq, advancers topped decliners by almost three to one on volume of 2.42 billion shares.
Results due to begin: The third-quarter earnings reporting period unofficially kicks off Wednesday with Dow compenent Alcoa, as is typical. The aluminum maker is expected to post a loss versus a profit a year ago, demonstrating the weak quarter expected for the materials sector.
S&P 500 profits are expected to have dropped almost 25% from the third quarter of 2008.
Profit warnings: Ahead of the first big batch of results, a few companies issued warnings about their just-completed quarter.
Dow component Boeing (BA, Fortune 500) said it will take a $1 billion charge in the third quarter because of higher costs to produce its 747-8 airplanes amid rough market conditions. The stock was little changed.
St. Jude Medical (STJ) warned Tuesday that third-quarter results would miss earlier forecasts because hospitals bought fewer of its medical devices. Shares fell nearly 13% in unusually active New York Stock Exchange trading.
World markets: Global markets rallied after Australia became the first major economy to boost interest rates since the financial crisis began. Australia's central bank boosted its overnight lending rate by a quarter percentage point to 3.25%, saying it was time to start taking away the stimulus of low rates as the economy is no longer weakening.
In Europe, London's FTSE 100 gained 2.2%, France's CAC 40 gained 2.5% and Germany's DAX gained 2.7%. Asian markets ended higher.
Currency and commodities: The dollar tumbled versus the euro and the yen, resuming its recent plunge against a basket of currencies.
U.S. light crude oil for November delivery settled up 47 cents to $70.88 a barrel on the New York Mercantile Exchange.
COMEX gold for December delivery rose $21.90 to settle at a record $1,039.70 an ounce, after rising as high as $1,045, an intraday record. The previous record close of $1,020.20 was set two weeks ago.
Bonds: Treasury prices fell, raising the yield on the 10-year note to 3.25% from 3.22% late Monday. Treasury prices and yields move in opposite directions.
The government saw good, but not great, demand for its auction of $39 billion in 3-year notes. Treasury said the bid-to-cover ratio, which measures demand, was 2.76, short of the 3.02 ratio seen the last time it sold 3-year notes.

Features

These Fortune 100 employers have at least 350 openings each. What are they looking for in a new hire? More

It would be the world's second-biggest economy. See how big companies' sales stack up against GDP over the past decade. More