Fans help rock stars write music
A music website lets users collaborate with musicians on their albums, starting with Mötley Crüe's Tommy Lee.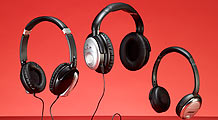 Our road warrior puts 5 noise-canceling headphones to the test.
(Fortune Magazine) -- One of the bright spots in the troubled record industry has been licensing songs to videogames like "Guitar Hero" that enable users to play along with the classics. Now music-networking sites are looking to jump on the trend by letting fans contribute to rock stars' albums.
Veteran producer Scott Humphrey, who has worked with Rob Zombie and the Crystal Method, launched a site in September called the Public Record that invites users to collaborate with Mötley Crüe drummer Tommy Lee on his new album.
Every week Lee posts his own "stems," which are stripped-down song components such as vocals and drum tracks. Fans submit homemade parts to complete the songs, and Lee chooses his favorites to mix into them. All submissions become his property.
When Lee approached Humphrey last year about making a new album, the producer was hesitant to release a traditional record because he felt market fragmentation was making it hard to get consumers' attention. He agreed to work with Lee, but asked him "if he'd roll with a new concept."
Several other sites offer collaborative tools for amateurs and professionals, including MixMatchMusic, JamGlue, and Indaba Music, which has hosted contests for Mariah Carey and Yo-Yo Ma. But while those projects served as promotional tools, Lee plans to use the fan-made tracks in his album. "If Led Zeppelin had done this, I'd have sent them my drum parts for sure," says Lee.
It's still unclear how -- or whether -- the sites will make money. Some rely entirely on ads (JamGlue), while others charge for access to recording features (Indaba). Humphrey intends to profit the old-fashioned way -- from a cut of album sales.
Says Lee: "We're letting the world take a shot at playing on it. It makes my brain smoke."