The Brocade beauty pageant
The network equipment maker is reportedly shopping for a suitor. So who's most likely to come a-courtin'?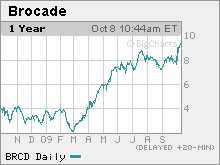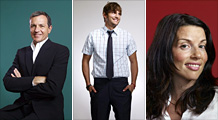 These tech-world luminaries - photographed during our recent Brainstorm Tech conference - aren't just changing the game; they've defined it. Photographs by Robyn Twomey.
SAN FRANCISCO (Fortune) -- Larry Ellison does not have a hankering to add Brocade Communication Systems to his long list of acquisitions.
At least that is what he told investors at Oracle's annual shareholder conference Wednesday. "We have no interest in buying Brocade," the Oracle (ORCL, Fortune 500) chief said in response to a question from an investor.
Brocade (BRCD), which makes switches, routers and software used in networking, has quietly put itself up for sale, according to a recent story in the Wall Street Journal. The report pointed the finger at Hewlett Packard (HPQ, Fortune 500) and Oracle as likely acquirers.
Shares in Brocade are up about 18% since the news hit. You can almost imagine someone, somewhere rubbing their hands together and cackling as their plan unfolds exactly as planned.
Is Brocade for sale? Sure it is, and always has been for the right price. The company, which had net income of $167 million on revenue of $1.5 billion in its fiscal 2008, does have the heft and product diversity to continue as an independent company.
But with a wave of consolidation going on in technology and recent takeout premiums as high as 60%-plus to share prices, now is a good time for Brocade to "quietly" make its intentions known to everyone.
"Interest in Brocade is picking up, and it is unlikely the company put itself up for sale in the absence of third-party interest," Goldman Sachs analyst Min Park told clients. "Brocade is a likely strategic fit for a number of potential acquirers." Park includes Hewlett Packard, Juniper (JNPR), Dell (DELL, Fortune 500), IBM (IBM, Fortune 500) and Oracle among those.
If the trend in pricing for similar strategic companies continues, demonstrated most recently by the 61% premium Dell offered for Perot Systems (PER), and the 34% bonus above the 12-month high EMC (EMC, Fortune 500) bought Data Domain for (which, if you look at it another way, was 222% higher than the stock's 12-month low), an offer price for Brocade could come anywhere in a range of $10 to $15 a share. That is, of course, if Brocade can get a bidding war going.
Goldman Sachs' Min, who has a "buy" rating on the stock, upped his 12-month target price to $10.50 from $9.50 based on the potential acquisition news, he estimates there is a 30% probability on a 35% acquisition premium to Brocade's current share price.
So who is most likely to jump at Brocade? Dell has Perot Systems to digest, so it may not be in the mood. It would be a stretch for Juniper financially. HP certainly has the cash, and its EDS acquisition is well underway. So it's a strong possibility. IBM has the wherewithal too, though perhaps not the stomach for more hardware.
And what about Oracle? It's possible that Ellison means exactly what he says -- that he's not interested, especially given his focus on Sun (JAVA, Fortune 500). But you can never count him out. If this is the beginning of some M&A courtship involving multiple suitors, there is no one better than Ellison at walking away with the prize (especially if he can make IBM's life miserable in the process).
Not interested? Not yet, maybe.