Stocks spike to new '09 highs
Major market indexes rise as trade gap surprisingly narrows and dollar bounces off recent lows.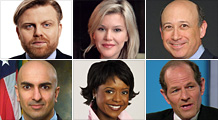 Would panic prevail? That was the question gripping the world in the days surrounding the fall of Lehman Brothers on Sept. 15, 2008. One year after that terrifying Monday, the people who struggled to cope with the financial crisis share what they were thinking as chaos broke out.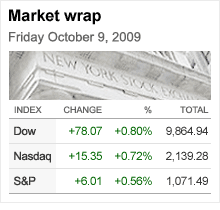 NEW YORK (CNNMoney.com) -- Stocks rallied Friday at the end of a strong week, with the Dow and S&P 500 hitting their highest levels in over a year as investors extended a seven-month rally.
The Dow Jones industrial average (INDU) rose 78 points, or 0.8%. The S&P 500 (SPX) index gained 6 points, or 0.6% and the Nasdaq composite (COMP) climbed 15 points, or 0.7%.
The Dow gained in four of five sessions this week and the S&P 500 and Nasdaq gained in all five sessions, as investors dove back in after a two-week selloff.
Wall Street briefly topped 2009 closing highs during the session Thursday, before closing just modestly lower. Thursday's run was fueled by Alcoa (AA, Fortune 500)'s better-than-expected profit report, a bigger-than-expected drop in jobless claims, and the first rise in monthly retail sales figures in a year.
The improved economic and earnings-related news was indicative of a week that brought a lot of better-than-expected reports, helping investors set aside renewed worries that the market has gotten too far ahead of the recovery. Such concerns fueled the previous two weeks of selling.
"We heard a lot of talk during the selloff that earnings were going to be weak, and at the same time we got a lot of mixed economic news," said Timothy Ghriskey, chief investment officer at Solaris Asset Management. "But this week, we've seen more favorable economic news and Alcoa."
He said that the reversal in the data was enough to give Wall Streeters the go ahead to jump back in at lower levels, a trend that has been in place all year.
Since bottoming on March 9 at a 12-year low, the S&P 500 has spiked 58%. Despite the pace of the run, Ghriskey says the market probably still has more room to run.
"It's inevitable that we'll see more pullbacks, but even a bigger selloff would probably just serve to bring in more buyers," he said. "There is still enough skepticism about the rally and enough cash waiting to be invested to fuel more gains."
Friday was also the two-year anniversary of the Dow and S&P 500 closing at all-time highs. And 24 tumultuous months later, both averages are still more than 30% below those highs.
Economy: The deficit narrowed to $30.7 billion in August, from a revised $31.9 billion in the previous month, the government reported Friday morning. That figure surprised economists, who were looking for the deficit to widen to $33 billion, according to a Briefing.com survey.
The Commerce Department report showed that exports rose, adding to bets that the global economy is recovering. The drop in imports was also a surprise to economists, who thought higher oil prices would have impacted the number.
Ben Bernanke: The Federal Reserve Chairman said Thursday night that while interest rates will stay low for a while, the Fed will have to start boosting rates as the recovery picks up, in order to fight off the threat of inflation.
Bernanke was speaking at a conference in Washington in which he discussed the Fed's still-expanding balance sheet in the aftermath of its multitrillion-dollar efforts to help temper the pace of the recession.
His comments boosted the U.S. dollar, which has been stumbling for several weeks, hitting multi-month lows against a basket of other currencies.
Obama: President Obama won the Nobel Peace Prize Friday for his efforts in strengthening cooperation around the world and trying to reduce the usage of nuclear weapons. The announcement was a shock, as Obama's name had not been mentioned among potential front runners.
World markets: Global markets were mixed. In Europe, London's FTSE 100 ended a few points higher, while France's CAC 40 and Germany's DAX was ended lower. Asian markets ended higher.
Currency and commodities: The dollar gained versus the euro and yen, reversing its recent slide against a basket of currencies.
U.S. light crude oil for November delivery rose 8 cents to settle at $71.77 a barrel on the New York Mercantile Exchange.
COMEX gold for December delivery fell $7.70 to settle at $1,048.60 an ounce, the third straight record high for the precious metal.
Bonds: Treasury prices tumbled, raising the yield on the 10-year note to 3.30% from 3.25% late Thursday. Treasury prices and yields move in opposite directions.
Market breadth was positive and lighter than average. On the New York Stock Exchange, winners beat losers by three to two on volume of 990 million shares. On the Nasdaq, advancers topped decliners two to one on volume of 1.97 billion shares.

Features

These Fortune 100 employers have at least 350 openings each. What are they looking for in a new hire? More

It would be the world's second-biggest economy. See how big companies' sales stack up against GDP over the past decade. More