On the block: Lehman art for under $2,000
You don't have to be a master of the universe to snag works by Hockney, Lichtenstein, and Rauschenberg.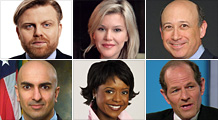 Would panic prevail? That was the question gripping the world in the days surrounding the fall of Lehman Brothers on Sept. 15, 2008. One year after that terrifying Monday, the people who struggled to cope with the financial crisis share what they were thinking as chaos broke out.
NEW YORK (Fortune) -- The first batch of artworks from the collection that once filled the corridors of Lehman Brothers' offices will be hitting the auction block on November 1. And while the works by David Hockney, Roy Lichtenstein and Robert Rauschenberg may be small potatoes for museum curators, the collection provides the opportunity for aspiring patrons of the arts to pick up brand-name artists for under $2,000. Bankers looking for an elegant office decoration -- and one with a conversation-starting provenance -- should check out the catalogue at freemansauction.com.
The U.S. Bankruptcy Court in the Southern District of New York, which is overseeing Lehman's bankruptcy's proceeding (now in its second year) granted to Freeman's, based in Philadelphia and which bills itself as "America's oldest auction house," the right to auction the first 283 lots of "modern and contemporary art" from Lehman's collection. Anne Henry, a vice-president at Freeman's in charge of the Lehman sale, valued the art being sold in the $500,000 to $750,000 range.
Obviously, Lehman's creditors, who have lost most of their money, are hoping Freeman's will be able to generate more proceeds than have been estimated. Freeman's will also be auctioning off another 30 lots of European fine paintings, from the Lehman collection, on December 6, and another 500 lots, or so, also from the Lehman collection, on February 12 of next year. These two subsequent auctions are not expected to generate much in the way of proceeds either, according to Henry, perhaps between $280,000 and $430,000 from the two sales.
The modest valuations on these first groups of artworks from the Lehman collection stand in sharp contrast to the priceless art collection once owned by Robert "Bobbie" Lehman, one of the patriarchs of the investment bank. When Lehman died in 1969, his foundation donated some 3,000 of his artworks to the Metropolitan Museum of Art, on Fifth Avenue. The museum has called that Lehman collection "one of the most extraordinary private art collections ever assembled in the United States." The Robert Lehman wing of the museum opened in 1975.
The collection being sold by Freeman's is also not part of the personal collection of Dick Fuld, the former CEO of Lehman, and his wife, Kathy. The Fulds sold a group of 16 artworks through Christie's last November for around $13.5 million below the $20 million the auction house guaranteed the couple. Kathy Fuld is on the board of the Museum of Modern Art.
Still, the 283 lots that Freeman's will be selling early next month do include any number of iconic images by many familiar artists. For instance, there is a group of 10 Berenice Abbott photographs of New York City street scenes (as well as one of the Flatiron Building) on which Freeman's has placed a seemingly modest price range of between $6,000 and $10,000. There is a set of nine Walker Evans photographs of the Brooklyn Bridge, priced at $1,000 to $1,500. There is a Christo print of wrapped buildings in lower Manhattan ($1,000 to $1,500) and a signed Alexander Calder print ($800 to $1,200). There is a 1973 David Hockney print of spring flowers in a vase that Freeman pegged at between $7,000 and $10,000.
A Roy Lichtenstein print, "I Love Liberty" from 1982, is estimated to fetch between $15,000 and $25,000. The Lichtenstein is one of the few lots being sold subject to a reserve price, or floor, so that if a minimum bid is not received the artwork will not be sold. Most of the collection, however, will just be sold without a price floor, which may be why Freeman's has put relatively low price ranges on a number of the pieces.
There are also a number of prints by artists such as Jim Dine, Louise Bourgeois, Claes Oldenburg, Wayne Thiebaud, Yaccov Agam, Alex Katz, Robert Motherwell, Louise Nevelson, Frank Stella, Robert Indiana, and Andy Warhol. In many ways, the collection is very typical of what Wall Street banks and law firms use to line the many walls of their offices. There are also a slew of works by lesser-known artists as well as French, Indian, and Chinese artists.
Although the dollar amount is relatively small, selling the collection is a bit of a coup for Freeman's. Usually, one of the three titans in the auction art market, Christie's, Sotheby's (BID), or Phillips, would be expected to sell such a collection. But Kelly Wright, an art advisor to Lehman, conducted a beauty contest earlier in the year and Freeman's was selected. "We are very excited about it," Henry said. "This is a very important provenance in the art world and there are number of top quality artworks being sold in good condition." Of course, Freeman's will get its pound of flesh. The auctioneer will add 25% on the first $20,000 of the hammer price of each lot, and 20% on the portion from $20,001 through $500,000.
In its glossy and colorful 250-page catalog, Freeman's does acknowledge, briefly, the circumstances that led to the sale: "The company's history ended abruptly in September 2008, when it was forced into bankruptcy during the recent financial crisis." Not quite as dramatic sounding as the fall of the Medici, a previous patron of the arts whose banking empire was undone by fiscal mismanagement, but nevertheless a sign of our times.