Dead zones
Are there bad locations -- or just bad businesses?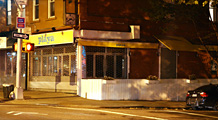 Every restaurateur knows about Cursed Locations, the addresses where no venture survives. Here's a look at 4 trying to break the streak -- and one that failed.
(Fortune Small Business) -- We've all seen retail locations that appear cursed because multiple businesses have died there. So how do you prevent your business from becoming the next victim?
Real estate brokers are more likely to point the finger at an entrepreneur than at a location. "We don't believe in curses," says Michael Ohmes, executive vice president of brokerage services at Minneapolis-based NorthMarq Capital. "If you have a series of failed businesses, there can be a stigma, but unless you have inconvenient parking or one-way streets, it's not the fault of the real estate."
The right business model can thrive in a supposedly cursed location. Kevin Liu opened the second branch of his Mt. Fuji restaurant at 2819 Hennepin Ave. South, Minneapolis, where four previous eateries had failed.
"The realtor told us the location was hard," says manager Zhen Huang, "but we're not brand-new; we have an Internet presence and regular customers." After an extensive, yearlong renovation, the dining room is full most nights.
But spending money isn't the only factor in turning a location around. You must also consider your concept.
"If you're off the main street, it's best to be a destination business, like a wedding-gown store," says Robert Beauregard, professor of urban planning at Columbia University.
Are you on the to-work side of traffic? Maybe you should open a coffee or doughnut shop. On the way home? Think quick, easy snack food. Is there already a high-end restaurant on the block? Maybe a sandwich shop is what's needed.
Blame voodoo and spells all you want. But as Molière wrote, if you smell something, it's probably in your nose.

To write a note to the editor about this article,
click here
.