Heartland haven: Oklahoma City
Oklahoma City boasts cutting-edge biomedical startups, affordable living and gutsy venture capitalists.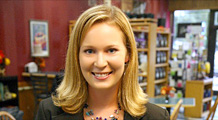 We asked entrepreneurs in all 50 Best Places how their hometown treats business owners. See how the cities stack up.
(Fortune Small Business) -- Craig Shimasaki was skeptical when, 20 years ago, his former Genentech colleagues urged him to leave San Francisco and help launch a biotech company in Oklahoma City.
"When I thought of Oklahoma," the 52-year-old entrepreneur recalls, "I thought of cowboys and Indians." Two decades and two startups later, he sees his adopted home as a different kind of pioneer state: a place where young, ambitious companies can grow and thrive.
In 2002 Shimasaki co-founded InterGenetics, a life-sciences firm that won three rounds of angel investments totaling more than $10 million (70% from Oklahoma-based benefactors), plus $2.5 million in federal and state research grants. By 2007 the company had 25 employees.
Last year disaster hit. An eleventh-hour FDA rule change derailed InterGenetics's marketing plans for its first major product: a genetic test to assess the risk of breast cancer in women.
In a less nurturing environment, InterGenetics might have gone under. The company was forced to lay off all but three employees, including former CEO Shimasaki, who remains a board member and 7% owner of the company. But the startup survived, thanks to city- and state-subsidized office space and to technicians who could subsist comfortably on salaries of $25,000 to $30,000 per year (compared with $60,000 for similar jobs in California).
When the FDA suspended its rule change earlier this year, InterGenetics was ready to roll out the product immediately. Shimasaki anticipates $1.1 million in revenues in the coming fiscal year. "We are already marginally profitable," he says.
Stable and affordable, Oklahoma City is a haven for entrepreneurial risk takers. It boasts the second lowest foreclosure rate among large U.S. metro areas (one for every 305 housing units, according to foreclosure data firm RealtyTrac), along with the second lowest median rent ($728 per month for a two-bedroom apartment, according to the U.S. Department of Housing and Urban Development). Through the Great Recession this former Dust Bowl capital has been spared many hardships, with a diverse local economy spread across medical research, energy, education and government. In 2008 it boasted the fastest per capita income growth (5.4%) of any large metro area, according to the U.S. Commerce Department's Bureau of Economic Analysis.
Oklahoma City also benefits from a high concentration of deep-pocketed local investors, many of them veterans of the oil and gas industry, who are willing to take a gamble on companies that might spend 10 years bringing a new product to fruition.
"Oil speculators understand they may need to spend $100,000 each on 20 new wells," Shimasaki says. "Nineteen will fail, but the 20th will pay them back fiftyfold."
And the city itself has been a powerful friend to life-science startups, funding the 1996 construction of the Presbyterian Health Foundation Research Park. The complex -- 700,000 square feet of space in seven buildings on a 27-acre site -- has attracted an influx of innovative biomedical firms. With its Class A wet-laboratory facilities -- necessary for any serious life-sciences operation -- and its reduced rents, the research park currently houses 35 companies, including CoMentis, which is testing a drug to treat Alzheimer's disease, and Orthocare Innovations, a cutting-edge prosthetics company that moved its headquarters here from Washington, D.C. to rein in operational costs.
"Our mission statement is very simple," says foundation president Michael Anderson. "We accelerate bioscience research discoveries to solutions that enhance human life."
Oklahoma City has its drawbacks. Among the most tornado-prone cities in America, it has the dubious distinction of getting hit in 1999 by the worst twister on record, with winds topping 320 miles per hour. And forget about entertaining your visiting clients with top-notch sporting events: Oklahoma City has only one professional franchise, the NBA's Oklahoma City Thunder, which had its first season in 2008 and finished 26th in the league.
For Shimasaki the biggest challenge is the prejudice of outsiders, who may still think of Oklahoma City as some kind of tumbleweed town out of a Walker Evans photo. "Once they get here, they love it," he says.

To write a note to the editor about this article,
click here
.