Gulf Coast Dynamo: Houston
Despite the occasional hurricane, Houston is a thriving, diverse metropolis that has weathered the recession better than most cities.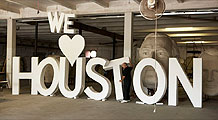 When the temperature dips, Houston becomes a hot destination for a tour of local businesses.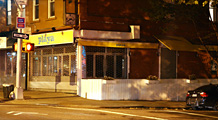 Every restaurateur knows about Cursed Locations, the addresses where no venture survives. Here's a look at 4 trying to break the streak -- and one that failed.
(Fortune Small Business) -- For Bryan Caswell, co-owner and chef at Houston's trendy Reef restaurant, the best thing about the Bayou City is the freedom to leave. The Houston native spent nine years perfecting his culinary skills in Bangkok, Barcelona, Hong Kong and Manhattan before opening a well-reviewed seafood eatery in his hometown. He now devotes two or three weekends a month to fishing on the Gulf Coast.
"In New York City the most difficult thing is being able to get out when you want to," says Caswell, 36. "In Houston it's simple: You're in the country in 15 minutes. In an hour and a half I'm sitting on a pier with no one around."
The Gulf of Mexico inspired Reef's menu. Caswell gets most of his fish from local independent purveyors, including Airline Seafood, Louisiana Foods and P. J. Stoops, a vendor that sells shrimp from the back of a truck like the ones Caswell remembers from his childhood.
Traditionally known for its lax zoning, low taxes, dominant oil industry and heavy traffic, Houston has evolved rapidly over the past decade. The city government has moved aggressively to curb pollution and diversify the economy. In 2003 the Metropolitan Transit Authority committed $1.46 billion for a public transportation system. The Texas Emerging Technology Fund, an early-stage venture fund created by the Texas legislature, allocated $180 million for research grants in 2008-09, targeting the energy industry as well as the fast-growing aerospace, information technology, nanotechnology, biotech and medical sectors.
Houston now boasts the world's largest medical center and the nation's top-rated cancer hospital. The number of annual business starts rose from 55, 523 firms in 2003 to 83,777 in 2006. Per capita income increased by 34.6% between 2002 and 2007. And this summer Houston became the largest municipal purchaser of green power in the country, according to the EPA.
Houston has performed surprisingly well during the current recession, adding 500,000 new jobs during the past five years, according to Frank Michel, communications director for the city government. The Greater Houston Partnership, an economic development group, forecasts that the metropolitan area will attract an additional 600,000 jobs and $60 billion in capital investment by the end of 2015.
Houston is culturally diverse, with a population that's 63% nonwhite and one-fifth foreign-born. "We still have a lot of peanut-shell redneck people rolling around here, but that is losing hold," Caswell says. "All the food we serve at Reef is dictated by cultural diversity." (That includes his celebrated Sriracha Remoulade, a Thai- and Vietnamese-inspired concoction that Garden & Gun magazine named to its list of the 100 Southern Foods You Absolutely, Positively Must Eat Before You Die.)
One downside to launching a business in Houston: Mother Nature. In 2005 Hurricane Katrina inflicted $81.2 billion in damage on the Gulf Coast. Three years later Ike devastated nearby Galveston and left Reef without power for 14 days. Some local businesses find hurricane insurance hard to come by, according to Anil Prasad, chairman of the Houston chapter of SCORE, a national business counseling organization.
Caswell seems unworried. "It's like rolling dice," he says. "Most of the time you're not going to roll two sevens in a row. When you do, you just have to hunker down, and then all the local businesses come together."
Case in point: During Hurricane Ike, Caswell teamed up with other local restaurateurs to deliver food, stoves and additional supplies from his kitchen to more than 350 Galveston refugees taking shelter in the nearby Lancaster Hotel.

To write a note to the editor about this article,
click here
.