Rocket town: Huntsville, Alabama
Huntsville has few venture capitalists -- but great scenery and a thriving community of tech startups, thanks to NASA.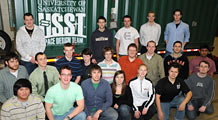 NASA has put up $4 million in prizes for inventors who create the building blocks for an aerospace breakthrough. Meet 4 teams competing in this year's Space Elevator Games.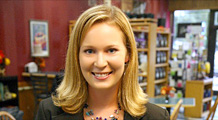 We asked entrepreneurs in all 50 Best Places how their hometown treats business owners. See how the cities stack up.
(Fortune Small Business) -- Tim Pickens, president of Orion Propulsion, has fond memories of the days when his parents' front windows would rattle violently in their frames.
Pickens grew up in Huntsville, Ala., just a few miles from the Marshall Space Flight Center. In the 1960s, Huntsville was often racked with earthquakelike rumblings as NASA's engineers tested boosters for rockets that would carry astronauts to the moon.
In the past 50 years this small city in northern Alabama has morphed from cotton capital to rocket town to high-technology hub. The U.S. Army's Aviation and Missile Command is housed in the nearby Redstone Arsenal, and the federal government employs more than 8% of the local workforce. But the city's thriving engineering community and tradition of innovation have also made it a breeding ground for tech entrepreneurs.
Pickens, a tinkerer and self-taught rocket engineer, founded Orion Propulsion in his garage five years ago using equipment acquired on eBay (EBAY, Fortune 500). He had already done his fair share of amateur work. Working with the Huntsville chapter of the National Space Society, Pickens built a homemade rocket that reached a record-breaking altitude of 41 miles in 1997. He later worked as a propulsion engineer on SpaceShipOne, a spacecraft developed by Scaled Composites in Mojave, Calif., which went on to win the Ansari X Prize, awarded to the first private company to build and launch a reusable, manned aircraft into space twice within two weeks.
Today Pickens runs a 40-employee firm devoted to rocket-engine testing and manufacturing. Orion Propulsion is currently working on a Boeing (BA, Fortune 500) contract to develop upper-stage thrusters for Ares I, a rocket NASA plans to use for its next manned space flights. Pickens projects 2009 revenues of $6 million, up 20% from last year.
"I couldn't have asked for a better community for doing what I want to do, and that's developing a space company," says Pickens, 45, who delights at the talented employees he's been able to fish from a local labor pool crawling with qualified engineers. (The Wall Street Journal reported that Huntsville had the nation's highest number of engineers per capita in 2006.)
Aerospace is not the only game in Huntsville. Local engineer Hans Schantz, 44, recently founded Q-Track to develop patented indoor wireless tracking technology using a type of low-frequency radio wave that he claims can penetrate walls far better than the high-frequency waves used in radiofrequency identification and GPS technology. Potential civilian and military applications include locating shipping containers in ports and tracking soldiers across urban battlefields.
Local incubator BizTech provided Q-Track with office and lab space, as well as an accountant to ensure that the firm's books could survive the audits required for federal contracts. BizTech even persuaded a large local engineering firm to lend Q-Track expensive equipment that it wasn't using and that Q-Track needed to test its technology.
The startup has since scored research contracts with the U.S. Army and the Department of Homeland Security, among others.
"Before BizTech, Q-Track was a bunch of guys working out of a garage," says CEO Jerry Gabig, an intellectual property lawyer with an engineering degree from the U.S. Military Academy at West Point. "Statistically, the company should have died." Q-Track now has 25 employees, according to Gabig. The CEO projects $1.5 million in revenues this year and expects Q-Track to roll out its first product in 2010.
Still, Gabig can't hold back a couple of grumbles about Huntsville. Venture capitalists are scarce in this small city dominated by government contractors, and Q-Track has struggled to raise money. Travel can be difficult too, with no direct flights from the small airport to New York City or L.A.
Entrepreneurs benefit from Huntsville's low cost of living and beautiful surroundings. On weekends Pickens of Orion Propulsion often heads to nearby Weiss Lake and the southern Appalachian Mountains. Even then, this tinkerer has trouble leaving rockets behind. His latest project? A rocket-propelled belt that runs on water, which he wears while Jet-skiing.

To write a note to the editor about this article,
click here
.