Bear Stearns hedgie was on meds
With the trial scheduled to start tomorrow, prosecutors enter into the record Matthew Tannin's account of taking anti-depressants and sleeping pills.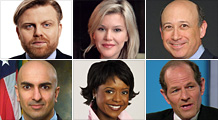 Would panic prevail? That was the question gripping the world in the days surrounding the fall of Lehman Brothers on Sept. 15, 2008. One year after that terrifying Monday, the people who struggled to cope with the financial crisis share what they were thinking as chaos broke out.
NEW YORK (Fortune) -- In a bit of pre-trial drama, federal prosecutors recently placed the digital diary of Matthew Tannin into the public record. In it, the Bear Stearns hedge fund manager fretted about becoming addicted to sleeping pills some six months before the funds he co-managed blew up in the summer of 2007.
That Tannin was depressed and could not sleep throughout the later part of 2006 was, of course, never revealed to existing and potential investors in the Bear Stearns hedge funds, and only came to light last week on the eve of the start of Tannin's criminal trial. The catalyst for Tannin's musings becoming part of a court filing was that Google (GOOG, Fortune 500) finally agreed to send, via overnight mail, a disk containing the contents of the hedge fund manager's G-mail account to federal prosecutors, who then released one entry only of its contents -- from November 21, 2006, the day he opened the G-mail account.
John Coffee, a law professor at Columbia University, speculated that prosecutors chose to release the one entry from Tannin's diary "to show that he knew the outlook was gloomy and it was having an impact on him; thus, he was not simply blindsided by a swift change in the market but clearly saw it coming."
'At risk of collapse'
Jury selection for Tannin's and his fellow hedge fund manager Ralph Cioffi's criminal trial in downtown Brooklyn, New York is set to begin tomorrow October 13. The U.S. Government has charged the two men with conspiracy, securities fraud, and wire fraud. Cioffi was also charged with insider trading. According to the government, by March 2007, Cioffi and Tannin believed the two hedge funds were "in grave condition and at risk of collapse" but failed to inform the funds' investors and creditors and instead "made misrepresentations to stave off withdrawal of investor funds and increased margin calls from creditors in the ultimately futile hope that the funds' prospects would improve and that the defendants' incomes and reputations would remain intact."
Investors lost more than $1 billion when the funds were liquidated in July 2007. Attorneys for the two men argue -- on the contrary -- that their clients did nothing illegal or criminal but merely had poor judgment and made investment mistakes at a time when the markets were crumbling in catastrophic, unprecedented ways.
Tannin's diary makes it clear that in the summer of 2006 he was worried about "blow up risk" for the investors in the two hedge funds. "This all hit me like a ton of bricks," Tannin wrote in his G-mail diary, "and the first result -- almost immediately -- was for me to lose my ability to sleep. Classic anxiety. I could not sleep. I would wake up an hour or two after going to be [d]...My mind would be focused on all of the things that I had not done and all of the things that could have gone wrong."
Sleeping pills and anti-depressants
Tannin headed off to London for a vacation with his family during the first week of July 2006. He was not happy especially with the "schlepping" of the "kids around from place to place." He still wasn't sleeping and beginning to feel depressed. Another family vacation at the end of the summer to Canada also did little to assuage his growing depression and sleep problems. His doctor prescribed Lorazepam to help him sleep and Wellbutrin -- designed to help with his gloominess.
"Let me try and describe my mental state," Tannin wrote. "I was incredibly stressed. It is a strange thing to be sitting here now (albeit on Wellbutrin) and reflect back about the stress. . . .Spreads are tight and credit is deteriorating. I was worried that this would all end badly and that I would have to look for work."
By November 21, 2006, Tannin admitted in his diary to feeling anxious about going off the sleep medication but he felt he needed to because his internist had expressed concern about the potential for him to become addicted to it. In the diary, he describes the process for weaning himself off the medication. By Thanksgiving 2006, Tannin wrote, "My moods are pretty good" but as the funds' performance started to deteriorate rapidly in February and March 2007, Tannin's anxiety would ratchet up again.
It is anyone's guess why prosecutors from the U.S. Attorney's Office would want to serve up this window into Tannin's soul on the eve of the trial. Legal experts speculate that the purpose of putting the lone G-mail entry into the record could be to show that Tannin was in command of his faculties when the alleged fraud took place. "A criminal conviction for securities fraud requires that the defendant act 'willfully', which is higher than the recklessness standard that applies in civil cases. If one's mind is clouded by depression, it can be argued that one was not acting willfully," says Professor Coffee.
Since Tannin and Cioffi's fate will soon be decided by a jury of their fellow stressed-out and sleep-deprived New Yorkers, it will be interesting to see whether Tannin's pill-popping has any effect on the outcome of the case.