Stocks struggle, finish mixed
The Dow retreats one day after ending at a 1-year record. Weak bank stocks and a mixed J&J profit report weigh on Wall Street.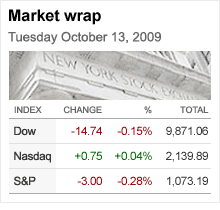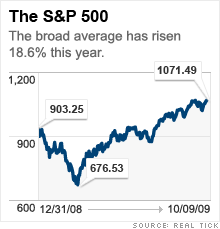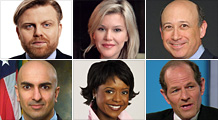 Would panic prevail? That was the question gripping the world in the days surrounding the fall of Lehman Brothers on Sept. 15, 2008. One year after that terrifying Monday, the people who struggled to cope with the financial crisis share what they were thinking as chaos broke out.
NEW YORK (CNNMoney.com) -- Wall Street struggled Tuesday as weakness in the financial sector and disappointment about Johnson & Johnson's results halted the Dow's attempt to reclaim 10,000.
The Dow Jones industrial average (INDU) lost 14 points, or 0.1%. The S&P 500 (SPX) index lost 3 points, or 0.3%, and the Nasdaq composite (COMP) ended just above unchanged.
After the close, Dow component Intel (INTC, Fortune 500) reported quarterly sales and earnings that topped estimates.
The chipmaker also issued a bullish forecast, saying that it expects fourth-quarter revenue of between $9.7 billion and $10.5 billion vs. the $9.51 billion consensus. Intel also said it expects gross margins, a key measure of profitability, in the 59% to 65% range versus the 56.7% consensus.
Dow component JPMorgan Chase (JPM, Fortune 500) reports results Wednesday morning. The financial company is expected to report a profit of 49 cents per share versus 11 cents a year ago.
Also Wednesday: reports are due on September retail sales, August business inventories and September import and export prices.
Tuesday's market: Stocks slipped at the start as traders braced for the first big wave of quarterly results this week. Gold touched a fresh record high and the dollar weakened. Treasury prices rallied, sending yields lower.
Stocks briefly turned higher in the late morning, before heading lower again.
Since bottoming at a 12-year low in March, the S&P 500 has gained nearly 59%, as of Monday's close, with any modest pullbacks being met by a new wave of buying.
With more than $3 trillion sitting in money market accounts and few better options, investors are feeling increasingly compelled to put cash into equities, said Rob Lutts, chief investment officer at Cabot Money Management.
"The common thought is that the market has run ahead of a recovery and that a correction is going to happen, but the reality is that the money has to go somewhere," he said.
"We probably are ahead of the fundamentals, but that doesn't mean we can't keep going higher," he said.
The Dow has been moving closer to 10,000, a key psychological barrier that could give stocks another leg up, or trigger a selloff. The market last closed above 10,000 a year ago, on Oct. 3, 2008.
Stocks posted tepid gains Monday on a light news day as investors got a little gun shy after pushing the Dow and S&P 500 to fresh one-year highs. On Tuesday, the focus turned to the quarterly results period, which heats up this week.
Results: Last week, Dow component Alcoa (AA, Fortune 500) got the third-quarter results period underway, reporting revenue and earnings that topped estimates.
That was good news to Wall Streeters, who are looking for revenues to have grown or at least stabilized after a second quarter in which topline growth was non-existent and any earnings improvement was driven by cost cutting.
On Tuesday, Johnson & Johnson (JNJ, Fortune 500) became the second Dow component to report results. The drug and medical products maker reported higher quarterly earnings that beat estimates thanks to cost cutting and a one-time tax benefit. The company also reported weaker quarterly revenue that missed expectations.
J&J boosted its 2009 earnings guidance to a range of $4.54 to $4.59 per share, versus an earlier range that topped out at $4.55 a share. Nonetheless, investors focused on the negative and shares fell 2.5%.
Other Dow gainers included Home Depot (HD, Fortune 500), Chevron (CVX, Fortune 500), DuPont (DD, Fortune 500) and Wal-Mart Stores (WMT, Fortune 500).
Financials: Goldman Sachs (GS, Fortune 500) slipped 1.5% after Merideth Whitney Advisors downgraded it to "neutral" from "buy."
That pressured a number of other financial shares, including Dow components Bank of America (BAC, Fortune 500), JPMorgan Chase (JPM, Fortune 500) and Travelers Companies (TRV, Fortune 500).
Bank of America said it will waive attorney-client privilege and hand over legal documents related to its controversial merger with Merrill Lynch. The company has been under pressure from regulators for months to provide more information on the purchase.
CIT Group (CIT, Fortune 500) tumbled 11.5% after the lender's CEO said he would resign by the end of the year.
Cisco: Cisco Systems (CSCO, Fortune 500) said it is buying Starent Networks (STAR) for $2.9 billion in cash. Starent makes gear that enables wireless carriers to tie their networks to the Internet.
World markets: Global markets were mixed. In Europe, London's FTSE 100 fell 1.1%, while France's CAC 40 and Germany's DAX both lost 1.2%. Asian markets ended higher, with the Japanese Nikkei up 0.6%.
Bonds: Treasury prices rallied, lowering the yield on the 10-year note to 3.32% from 3.30% late Friday, as bond markets were closed Monday for Columbus Day. Treasury prices and yields move in opposite directions.
Bond prices built on gains after Fed governor Donald Kohn said that while the pace of the economic recovery will pick up next year, the jobless rate will also keep rising, hitting 10% next year.
Treasury saw strong demand for its two debt auctions: $30 billion in 3-month notes and $30 billion in 6-month notes.
Currency and commodities: The dollar fell versus the euro and the yen.
U.S. light crude oil for November delivery rose 88 cents to settle at $74.15 a barrel on the New York Mercantile Exchange.
COMEX gold for December delivery rose $7.50 to settle at $1,065 an ounce, a record close.
Market breadth was negative. On the New York Stock Exchange, losers beat winners nine to seven on volume of 1.14 bllion shares. On the Nasdaq, decliners topped decliners seven to six on volume of 1.32 billion shares.

Features

These Fortune 100 employers have at least 350 openings each. What are they looking for in a new hire? More

It would be the world's second-biggest economy. See how big companies' sales stack up against GDP over the past decade. More