JPMorgan scores big in latest quarter
Banking giant enjoys rebound in key areas such as investment banking even as consumer credit issues persist.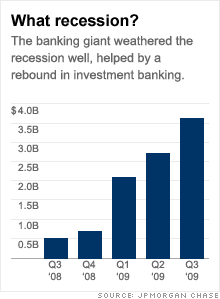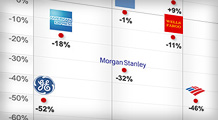 Key financial firms received a wide range of assistance during the past year. But scroll over their stocks and you'll find few winners – and plenty of losers.
More
NEW YORK (CNNMoney.com) -- JPMorgan Chase delivered its strongest performance since the financial crisis first took hold two years ago, as the company reported earnings on Wednesday that towered above Wall Street's expectations.
The bank's quarterly profits were driven largely by a strong performance in its investment banking division.
And while losses continued to climb in the consumer-related parts of its business, executives at the company suggested that they were starting to see signs of stability.
"I give them a big check mark," said Raymond James analyst Anthony Polini. "Credit quality was in line with expectations and their core [earnings] power remains intact."
JPMorgan Chase, the first in a series of big banks due to report this week, said it it earned $3.6 billion during the third quarter, or 82 cents a share.
That was far better than Wall Street was anticipating. Analysts polled by Thomson Reuters expected the company to report a profit of $2.03 billion for the quarter, or 52 cents a share.
Investors cheered the news, sending JPMorgan Chase (JPM, Fortune 500) stock nearly 4% higher in midday trading Wednesday. Shares across the the banking sector followed, as the S&P Banking Index (BIX) gained more than 2% on the news.
Banking vs. credit
Propping up the company's latest results was JPMorgan's investment banking business, which has experienced significant growth over the past year given the disappearance of Lehman Brothers last fall and the weakened state of peers like Citigroup (C, Fortune 500).
Profits in the division more than doubled from a year ago in the latest, climbing to $1.9 billion.
Unlike the previous quarter, when equity underwriting fees lifted the division's results, fixed income provided a big boost this time given the boom in newly issued corporate and government debt.
That rapid shift in business, however, left many analysts wondering just how sustainable the performance of both JPMorgan's fixed-income and broader investment banking business could be in future quarters.
"I think the easy money has been made there, no question about it," said Bill Fitzpatrick, an analyst at Optique Capital Management, which owns shares of JPMorgan.
Offsetting those numbers, however, were credit concerns, particularly within its consumer-related divisions such as its credit card business.
"While we are seeing some initial signs of consumer credit stability, we are not yet certain that this trend will continue," JPMorgan Chase CEO Jamie Dimon said in a statement.
During the quarter, the company said it added approximately another $2 billion to its consumer credit reserves, which dragged down results both within its mortgage lending and credit card businesses.
Both divisions reported widening losses compared to the second quarter of 2009.
Mike Cavanagh, JPMorgan Chase's chief financial officer, tempered that view however, noting that there were some encouraging signs such as stabilization of early-stage delinquencies within its credit card portfolio.
He added that the company could be close to the end of adding to its loan loss reserves if the economy continues to stabilize.
Cavanaugh also delivered some encouraging news for shareholders, noting that a dividend hike was a possibility, provided that the U.S. economy doesn't endure further weakness from here.
Earlier this year, JPMorgan Chase slashed its annual dividend nearly 87% to 20 cents a share to preserve capital. Cavanaugh suggested it may not be long before the board could raise it to 75 cents or $1 a share.
"If we are lucky that could be some time early next year," he said.
Other top-tier financial firms are slated to report their quarterly results later this week, with Citigroup (C, Fortune 500) slated to report its results Thursday while Bank of America (BAC, Fortune 500) is due up Friday.

Features

These Fortune 100 employers have at least 350 openings each. What are they looking for in a new hire? More

It would be the world's second-biggest economy. See how big companies' sales stack up against GDP over the past decade. More