Top banks cut small business lending by $8 billion
As small business loans continue to dry up, the President readies a new set of initiatives aimed at reversing the trend.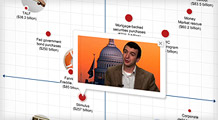 The collapse of Lehman led to a deeper recession and a litany of government programs to try to end the pain. We rate just how bold and effective the plans have been so far.
Map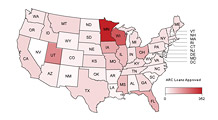 The government's America's Recovery Capital (ARC) loan program aims to help struggling small businesses. Here's a look at which banks are making the loans.
View Map
NEW YORK (CNNMoney.com) -- President Obama is trying -- again -- to help small business get the cash they desperately need.
The President will visit a small business in Maryland on Wednesday to present a series of initiatives aimed at increasing bank lending to small businesses, according to a White House official.
The programs the President will unveil include an increase in the maximum amount businesses can borrow through the Small Business Administration's primary loan program, which currently stands at $2 million. In addition, the Treasury Department will expand access for smaller banks to the Troubled Asset Relief Program (TARP), a move aimed at spurring more local lending by community banks.
The TARP program was set up to recapitalize banks so that they would bolster their lending to consumers and small businesses. In March, as the administration and the SBA took steps to stimulate small business lending, Treasury Secretary Tim Geithner ordered the top TARP recipients to begin sending the Treasury monthly reports on their small business lending activity.
"We need every bank in the country to do everything in their power to provide the credit that small businesses need to operate, expand and add jobs," Geithner said as he announced the new requirements. "Given the role many banks played in causing this crisis, you bear a special responsibility for helping America get out of it."
But in the five months they've been sending in those reports, the 22 biggest TARP recipients haven't increased their small business lending. Instead, they've cut their outstanding balances by $8 billion. As of Aug. 31, the 22 reporting banks held a collective small business loan balance of $261.3 billion, down 3% from when they began reporting in April.
As unemployment nears 10%, lawmakers are worried about the ripple effects of the credit clampdown. Small businesses employ half of America's non-government workers and traditionally create most of the country's new jobs, according to government estimates.
"New firms generate jobs and revenue where there once were none," Nydia Velázquez, a Democrat from New York and the chair of the House Committee on Small Business, said last week in a hearing on increasing capital access. "But of course, entrepreneurs can't create new positions and paychecks out of thin air -- startups require significant capital to get off the ground."
Obama's administration tried earlier this year to restart the stalled lending market. As part of February's stimulus package, Congress allocated $730 million to the SBA to temporarily waive fees and increase the guarantees the agency offers banks that make qualifying small business loans. Despite those measures, SBA lending continued to fall, dropping 36% in the 2009 fiscal year compared to a year earlier.
The administration also set aside $15 billion in TARP money to repurchase SBA loans from banks. But that money has so far gone untouched, thanks to logistical snags and banks' squeamishness about the restrictions that come with TARP funds.
In March, Obama met with more than a dozen small business owners and community lenders to kick off the stimulus initiatives. While touting the new programs, Obama left the door open to further government intervention if the stimulus programs proved insufficient.
"This plan is the latest step -- but by no means the last step -- in our ongoing efforts to stabilize the financial markets on behalf of businesses and consumers," Obama said in March. "We'll be outlining further steps on behalf of small businesses in the weeks and months ahead. And we will continue to do whatever is necessary to lead this economy out of recession."

To write a note to the editor about this article,
click here
.