Stocks tumble after rally
Wall Street retreats, with the Dow giving up the 10,000 level as the dollar firms and energy stocks fall. Strong results from Microsoft and Amazon boost those stocks.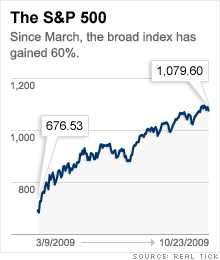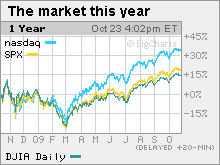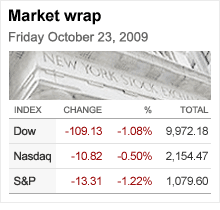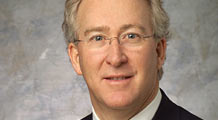 The government is slashing pay for top execs at firms bailed out by taxpayers, but plenty of people are still raking in the dough. Here are last year's top earners.
NEW YORK (CNNMoney.com) -- Stocks slumped Friday, in a broad-based selloff that was especially hard on the leaders of the most recent leg of the rally -- banks, energy shares and transportation companies.
The Dow Jones industrial average (INDU) lost 109 points, or 1.1%. The S&P 500 (SPX) index lost 13 points or 1.2%. The Nasdaq composite (COMP) lost 11 points or 0.5%.
Stocks had risen in the morning after upbeat results from Microsoft and Amazon.com, and an encouraging reading on existing home sales. But the tone turned negative in the afternoon.
The three major indexes all ended lower for the week, after two weeks of gains amid a bigger multi-month advance.
"After seven months of mostly rallying, the buyers weren't really here this week and the bears took that as an opportunity," said Paul Brigandi, vice president of trading at Direxion Funds.
Investors getting tired?: Since bottoming at a 12-year low on March 9, the S&P 500 has surged over 62% through its rally high earlier this week.
Although repeated predictions for a big 10% to 15% selloff haven't materialized, smaller selloffs of 1% to 3% have popped up periodically during the past 7 months. Friday appeared to be an extension of that trend.
While the S&P 500 lost 1.1% Friday, for individual sectors, the declines were bigger.
The Dow Jones Transportation (DJT) average, which includes railroads, truckers and airlines, had surged 88% through its rally high earlier this week. On Friday it lost 3.5%.
Some market pros have said the rise in the transports is a good indicator of the economic recovery. But downbeat comments Friday from railroads Union Pacific and Burlington Northern put that optimism into question. It also gave investors an opportunity to cash out after the massive rise in the sector.
The KBW Bank (BKX) index, which tracks 20 financial firms, including Bank of America (BAC, Fortune 500), Citigroup (C, Fortune 500) and Wells Fargo (WFC, Fortune 500), has rallied over 140% between March and its peak this week. The bank sector slumped as well Friday, losing 1.6%.
A strong U.S. dollar -- bouncing back from one-year lows against a slew of other currencies -- added to the downturn Friday. A strong dollar pressures dollar-traded commodities including oil, which in turn drags on energy shares. Big multinationals that benefit from a weak dollar also slipped.
Stocks had rallied Thursday following upbeat earnings from 3M (MMM, Fortune 500), AT&T (T, Fortune 500) and other blue chips. The advance propelled the Dow back above 10,000 and the S&P 500 closer to 1,100. But that advance proved unsustainable Friday, even though corporate news was upbeat.
"Investors know that the earnings for the third quarter are going to be better than expected," Brigandi said. "That's no longer going to be a catalyst. They are going to want to see something else."
Results: Microsoft (MSFT, Fortune 500) reported weaker quarterly sales and income Friday morning that easily surpassed analysts' estimates. Cost cutting and strong sales of its Windows operating system fueled the advance.
On Thursday, Microsoft rolled out its new Windows 7 operating system, expected to boost PC sales in the coming months.
Shares of Microsoft, a Dow component, rose over 9% Friday morning, touching a one-year high, before giving up nearly half of that advance.
Late Thursday, Dow component American Express (AXP, Fortune 500) reported weaker quarterly sales and earnings that beat analysts' forecasts. Shares fell 5% Friday.
Also late Thursday, Amazon.com (AMZN, Fortune 500) reported a big surge in earnings and revenue, thanks in part to strong sales of its e-reader, Kindle. Shares jumped 27% Friday, hitting a ten-year high.
So far, 199 companies, or 40% of the S&P 500, have reported results. Profits are currently on track to have fallen 18.2% versus a year earlier, according to the latest from Thomson Reuters. Revenue is expected to have dropped over 10% from a year ago.
Bernanke: The Federal Reserve chairman, speaking Friday, said that the financial turmoil is abating, but that lawmakers have to reform the system to help prevent a crisis of this magnitude happening again.
On Thursday, the Federal Reserve proposed a broad overhaul of pay policies at 28 of the largest U.S. banks. Also Thursday, White House "pay czar" Kenneth Feinberg called for the seven biggest recipients of federal bailout money to cut in half what they pay their top executives.
Economy: Existing home sales jumped to a 5.57 million unit annual rate in September, according to a National Association of Realtors report released Friday morning. Sales were expected to have risen to a 5.35 million unit annual rate from 5.1 million unit annual rate in August.
World markets: Global markets were mixed. In Europe, London's FTSE 100 gained 0.7%, France's CAC 40 lost 0.3% and Germany's DAX gave up 0.4%. Asian markets ended higher.
Bonds: Treasury prices tumbled, raising the yield on the 10-year note to 3.48% from 3.42% late Thursday. Treasury prices and yields move in opposite directions.
Currency and commodities: The dollar gained versus the euro, after falling to a 14-month low earlier in the week. The dollar gained versus the yen.
U.S. light crude oil for December delivery fell 69 cents to settle at $80.50 a barrel on the New York Mercantile Exchange, edging off a one-year high.
COMEX gold for December delivery fell $2.20 to settle at $1,056.40 an ounce. Gold has surpassed records repeatedly this month due to the weak dollar and longer-term worries about inflation.

Features

These Fortune 100 employers have at least 350 openings each. What are they looking for in a new hire? More

It would be the world's second-biggest economy. See how big companies' sales stack up against GDP over the past decade. More