GMAC seeking third bailout - report
U.S. Treasury likely to inject another $2.8 billion to $5.6 billion in troubled lender, Wall Street Journal says.
Find your next Car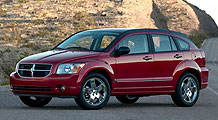 Chrysler was king of the hill with its 300 series just a few years ago. Oh how the mighty have fallen.
NEW YORK (CNNMoney.com) -- GMAC Financial Services is seeking a third round of bailout funds from the U.S. Treasury Department, according to a report in the Wall Street Journal.
Talks over a fresh lifeline are at an advanced stage and the U.S. government could provide an additional $2.8 billion to $5.6 billion to the lender, the report said, citing people familiar with the matter.
The U.S. has already injected $13.4 billion in the lender since December 2008 and owns a 35.4% stake in the firm, which is the primary lender to customers of General Motors and Chrysler.
If GMAC receives the additional taxpayer money, it would likely be in the form of preferred stock, the Journal said.
GMAC provides financing for both General Motors (GM, Fortune 500) and Chrysler customers. The company, which is also a home mortgage lender, has been wracked by huge losses in recent quarters and hit hard by the decline in auto sales and turmoil in the housing market.
The company reported a net loss of $3.9 billion on revenue of $1 billion for its second quarter ended June 30. At that time, GMAC also said it had assets totaling $184 billion.
GMAC was once a major driver of General Motors' earnings before GM sold a majority stake to private equity firm Cerberus Capital Management LP and other investors in 2006.

Features

These Fortune 100 employers have at least 350 openings each. What are they looking for in a new hire? More

It would be the world's second-biggest economy. See how big companies' sales stack up against GDP over the past decade. More