Dow hits another 13-month high
Investors show more confidence that interest rates will remain low for the foreseeable future.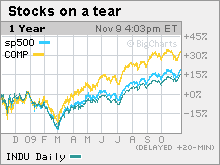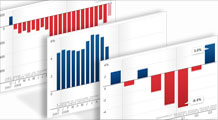 The economy has grown for five straight quarters, but there are signs that the recovery is still fragile.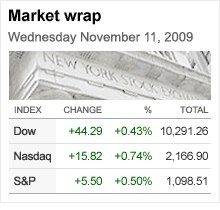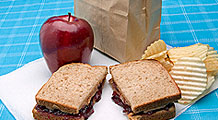 In today's tight economy, who doesn't want to free up some cash? Trim the fat but not the fun from your budget - here's how.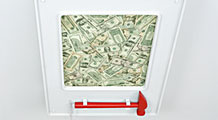 Low interest rates and the recent stock market surge make this a challenging time to find the best places for your extra cash.
NEW YORK (CNNMoney.com) -- Stocks ended higher Wednesday, with the Dow industrials finishing at a 13-month high for third straight day, after investor optimism rose on the expectation that interest rates would remain low for some time.
The Dow Jones industrial average (INDU) gained 44 points, or 0.4%, to end at 10,291.26. The S&P 500 (SPX) ticked up 6 points, or 0.5%, to close at 1,098.51, and the Nasdaq composite (COMP) rose 16 points, or 0.7%, to settle at 2,166.90.
Federal Reserve officials who spoke earlier Tuesday said the economic recovery was likely to be muted, and they also reinforced the view that the central bank would keep interest rates low for the foreseeable future.
"People are comfortable with the Fed, that they won't do anything stupid," said Harry Clark of Clark Capital Management. "They've said the same thing many times during this recession, and I don't see them making waves anytime soon."
Clark said he expects that the Fed won't change its policy until the second quarter of 2010, but the record-low rates should support the market until then.
Robert Brusca, chief economist at Fact and Opinion Economics, said investor optimism seemed to be overriding negative sentiment, noting that "the markets were able to shake off a somewhat disappointing jobs number last week."
Most investors "are more optimistic than the pessimists that are making all the news," Brusca said. "I think the health of the market is better than a lot of the technicians give it credit for."
Clark agreed, saying investors "are realizing things aren't as bad as the headlines sound, with people pooh-poohing the green shoots. They're accepting that the fundamentals are coming along."
U.S. bond markets and government offices were closed Wednesday for Veterans Day, but stock and commodity markets were open as usual.
Wall Street finished Tuesday's session mixed as investors expressed caution following Monday's big rally. But the Dow's 20-point gain Tuesday left it at a new 13-month high.
An extended rally? Clark is bullish for the short term -- he said he expects the market to sustain gains through January.
"I think we'll have one more decent [market dip] next year, maybe for a couple quarters, when the Fed moves up the interest rate," Clark said. "Then we'll have a correction and that should largely end the big swings, beginning a steady increase."
With interest rates expected to remain low, corporate earnings season behind us and commodity prices rising, Clark said he can't "see a reason for a stumble" barring major unexpected news.
He expects the Dow will end the year around 11,500 and the S&P will close at 1,130.
Steven Rogé, portfolio manager at R. W. Rogé & Company, is more cautious.
"Some investors are forward-looking, saying the picture is not as dire as it was," Rogé said. "But at the same time a lot of money managers are still looking in the rearview mirror at lagging indicators like unemployment."
But Rogé noted "every post-World War II recession has been a 'jobless recovery,'" and he expects the turnaround to follow historical patterns.
The trend will be upward throughout the year, with "some bumps in the road," he said. He expects the Dow will end the year at 10,500 and the S&P will close at 1,150.
U.S. companies and world markets: AIG's (AIG, Fortune 500) Robert Benmosche threatened to step down as CEO of the bailed-out insurer, telling the company board that he's "done" because of government restraints, according to the Wall Street Journal, which cited unidentified people familiar with the matter.
In Japan, the Nikkei finished the session little changed. Hong Kong's Hang Seng added 1.6%. Major European indexes ended slightly higher.
Currencies and commodities: The dollar was higher against the euro, British pound and Japanese yen, rising off 15-month lows against major international currencies.
The price of crude oil rose 23 cents to settle at $79.28 a barrel.
December gold rose $12.10 to settle at $1,114.60 an ounce, after climbing to a record $1,118.50 an ounce earlier in the session.
Market breadth was positive. On the New York Stock Exchange, losers topped winners by almost nine to six on volume of 1 billion shares. On the Nasdaq, decliners topped advancers eight to five on volume of 1.9 billion shares.

Features

These Fortune 100 employers have at least 350 openings each. What are they looking for in a new hire? More

It would be the world's second-biggest economy. See how big companies' sales stack up against GDP over the past decade. More