AIG chief 'frustrated' but staying on
Robert Benmosche tells employees that he is committed to leading AIG, despite ongoing uncertainty about executive compensation.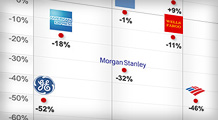 Key financial firms received a wide range of assistance during the past year. But scroll over their stocks and you'll find few winners – and plenty of losers.
More
NEW YORK (CNNMoney.com) -- AIG Chief Executive Robert Benmosche told his staff on Wednesday that he is "frustrated" with ongoing discussions with the government about bonuses, but he will remain with the company.
Benmosche said in a memo to employees that he remains "totally committed to leading AIG through its challenges," even though he is exasperated by "the time and effort it is taking to ensure that our top 100 executives are compensated fairly."
"We are all working aggressively to overcome this compensation barrier that stands in the way of restoring AIG's value and allowing us to live up to our obligations to all stakeholders," Benmosche said in the memo.
Benmosche issued the memo in response to a Wall Street Journal story published Wednesday that said the CEO told AIG's board that he was "done" during a meeting last week. The report said Benmosche agreed to reconsider after fellow directors were shocked, the newspaper said, citing unnamed sources.
Benmosche has expressed frustration with the constraints placed on AIG by the government after the global insurance company was bailed out last year.
He successfully fought a recent ruling by the Obama administration's pay czar, Kenneth Feinberg. Last month, Feinberg demanded companies that had received government aid reduce total compensation for their top 25 highest-paid employee by 50%, on average.
Benmosche, 65, reportedly told AIG's board that the pay constraints would drive away talented employees.
AIG (AIG, Fortune 500) received a $182 billion lifeline from the government last year as the credit crisis forced the company to the brink of collapse. In exchange, the government took an 80% ownership stake in AIG.
Benmosche, formerly chief executive of MetLife, replaced Edward Liddy as AIG's chief executive in August. He has been criticized for his brash behavior and aggressive attitude toward Congress.
However, it isn't clear whether Benmosche would actually resign. According to the report, the executive was said to be prepared to step down at least once before, in August, before his own pay package had been formally approved.
Despite ongoing criticism of the company's compensation practices, Benmosche negotiated a $10.5 million pay package, including cash salary of $3 million. It was the largest award approved under the Treasury Department's recent curbs on executive pay.
Meanwhile, AIG has benefited recently from stabilization in the insurance business and improvements in the credit and mortgage market.
Last week, the New York-based company said it earned $455 million in the third quarter, an improvement over the $24.5 billion loss from a year earlier. It was AIG's second profitable quarter in a row.

Features

These Fortune 100 employers have at least 350 openings each. What are they looking for in a new hire? More

It would be the world's second-biggest economy. See how big companies' sales stack up against GDP over the past decade. More