Obama to hold jobs forum in December
The President announces White House will convene a meeting of business leaders, economists and labor representatives to brainstorm about job creation.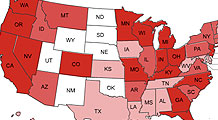 The duration of unemployment insurance varies by state. Here's how many weeks are available where you live.
More
NEW YORK (CNNMoney.com) -- President Obama, facing a 10.2% unemployment rate, said Thursday he would hold a jobs forum at the White House in December.
He noted the encouraging signs of economic growth and a slowing of the loss of jobs in recent months, but said employers are still reluctant to hire and millions are desperate to find work.
"Even though we've slowed the loss of jobs -- and today's report on the continued decline in unemployment claims is a hopeful sign -- the economic growth that we've seen has not yet led to the job growth that we desperately need," the President said in a statement delivered at the White House.
"We all know that there are limits to what government can and should do, even during such difficult times. But we have an obligation to consider every additional responsible step that we can to encourage and accelerate job creation in this country," he added.
Those invited to the forum will include CEOs, small business owners, economists, financial experts, and representatives from labor and non-profits.
The forum will be held against a background of highly mixed economic news.
On the bright side: the GDP grew 3.5% in the third quarter. But there are concerns that growth may not be sustainable, given that housing and jobs haven't showed signs of recovery.
Some economists have been arguing for another round of stimulus to ward off sliding into another recession.
Not everyone is convinced. And politically, the prospects for passing a single stimulus package with a big price tag are not high. Instead the administration and Congress are looking for smaller initiatives that can be taken both by the government and the private sector.
One idea that has been floated to spur job creation is a hiring credit, whereby employers would get a tax break for every new worker hired. But many economists and tax experts say it's a flawed concept since it would end up disproportionately rewarding employers that were planning to hire anyway.
So far lawmakers have extended and expanded some measures from the original $787 billion stimulus package passed in February -- specifically, federal unemployment benefits, the homebuyer credit, and big tax break for businesses looking to write off more of their losses.

Features

These Fortune 100 employers have at least 350 openings each. What are they looking for in a new hire? More

It would be the world's second-biggest economy. See how big companies' sales stack up against GDP over the past decade. More