S&P 500 shoots above 1,100
Wall Street rallies as energy and commodity shares rise on weak dollar; Bernanke says economic recovery will be modest.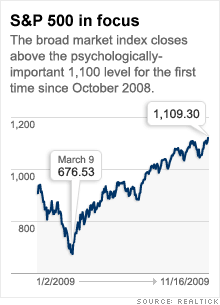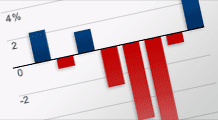 The recovery from the Great Recession has likely started. But many economists are worried about falling into another downturn. Here's what has them concerned.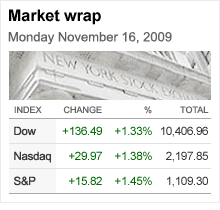 NEW YORK (CNNMoney.com) -- Stocks rallied to 13-month highs Monday as investors focused on the weak U.S. dollar and Federal Reserve chairman Ben Bernanke said interest rates will remain low as the economy slowly recovers.
The Dow Jones industrial average rose (INDU) 136 points, or 1.3%, to close at 10,406.96. That's the highest level for the blue-chip indicator since October 2008.
The S&P 500 (SPX) gained 15.8 points, or 1.8%, to close above the psychologically important 1,100 level.
The Nasdaq composite (COMP) rose 30 points, or 1.4%, to 2,197.5.
Stocks followed overseas markets higher in early trade following strong economic data out of Japan. The market held gains after a closely watched report on retail sales came in mixed.
Analysts said the main driver of Monday's rally was the weak U.S. dollar, which helped push gold prices to a record high and fueled a 3% gain in the oil market.
The dollar has lost more than 7% this year against rival currencies as investors take advantage of U.S. interest rates near zero percent to fund bets in more risky stock and commodities markets.
On Monday, the battered greenback fell 0.3% to touch a 15-month low against a basket of other currencies.
Meanwhile, Bernanke said the U.S. central bank expects to keep interest rates "exceptionally low" for an "extended period" as the U.S. economy recovers at a modest pace.
Art Hogan, chief market analyst at Jefferies & Co., said the market is focused on the anemic dollar. "As the dollar weakens, commodity prices go up," he said. "It's nothing new, but there's really nothing else driving the market right now."
Stocks have soared over the past two weeks as investors have gained confidence in the pace of the economic recovery. The market has also been supported by signs that policy makers around the world will keep economic stimulus efforts in place for a prolonged period of time.
Monday's rally reflects the "continuing resiliency of the market," said Richard Sparks, senior equities analyst at Schaeffer's Investment Research. He said stocks could continue higher as the market overcomes key technical levels and more investors are drawn in from the sidelines.
With the Dow holding firmly above the psychologically important 10,000 level, investors are now turning their attention to another key high-water mark. Analysts say a sustained push above 1,100 points on the S&P 500 could pave the way for further gains in the weeks ahead.
"The big news today was the S&P closing above 1,100," said David Levy, a portfolio manager at Kenjol Capital Management. "From a short-term perspective, that's very bullish for the market."
After failing to close above 1,100 on three separate occasions over the last few months, the push above that key level suggests that the market is becoming more convinced that an economic recovery is under way, he said.
"We see the market going higher into year end," Levy said.
Bernanke. Speaking in New York, Bernanke said financial conditions are significantly better than they were a year ago as markets around the world have stabilized.
But he warned that constrained bank lending and the weak job market "likely will prevent the expansion from being as robust as we would hope."
Given the challenges facing the economy, interest rates will probably remain "exceptionally low" for "an extended period," he said.
Bernanke also noted that the Federal Reserve, which is not responsible for managing currency fluctuations, is watching the decline of the U.S. dollar.
"We are attentive to the implications of changes in the value of the dollar and will continue to formulate policy to guard against risks to our dual mandate to foster both maximum employment and price stability.
Economy: Retail sales jumped 1.4% in October from the prior month, according to the Census Bureau, exceeding the increase of 0.9% expected by a consensus of economists surveyed by Briefing.com. Excluding automobiles, sales rose 0.2%, falling short of the 0.4% gain forecast by Briefing.com consensus.
That's compared to an overall decline of 1.5%, or an increase of 0.5% without auto sales, the prior month.
A report from the New York Federal Reserve Bank showed manufacturing activity in New York State slowed in November. The Empire State index fell to 23.51 in early November from 34.57 in October, which was a five-year high.
Companies: Home improvement retailer Lowe's (LOW, Fortune 500) reported a 30% drop in quarterly profit, but offered an optimistic outlook for fourth-quarter earnings.
General Motors (GM, Fortune 500), releasing its first financial results since emerging from bankruptcy in July, said it lost $1.2 billion in the third quarter. It also said it would begin repaying government loans in December. The U.S. government would receive $1 billion, with nearly $200 million going to the governments of Canada and Ontario.
After the markets closed, troubled auto and mortgage lender GMAC shook up its executive suite, naming former Citigroup (C, Fortune 500) executive Michael Carpenter CEO.
World markets: Stocks worldwide were lifted amid optimism that governments would keep up stimulus efforts. In Asia, Japan's Nikkei added 0.2% after finance ministers said the country's economy grew 1.2% in the third quarter. European shares also closed higher.
Money, oil and gold: The dollar was lower versus major international currencies. The dollar index (DXY), which measures the U.S. currency's value against a basket of rivals, was down 0.3% to 74.94.
Commodities continued to benefit from the weaker greenback. Oil for December delivery jumped $2.55 to close at $78.90 a barrel.
And gold prices, which have been on a tear this month, surged $22.50 to end at a new record of $1,139.20 a troy ounce.

Features

These Fortune 100 employers have at least 350 openings each. What are they looking for in a new hire? More

It would be the world's second-biggest economy. See how big companies' sales stack up against GDP over the past decade. More