How to build a (strong) virtual team
In a world where fewer and fewer employees work in the same location as their bosses, IBM is figuring out how to bring together far-flung coworkers.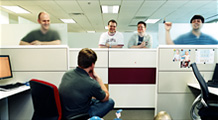 Free beer, generous vacation leave, and a say in company decisions - see how 7 innovative companies are inspiring workers and boosting the bottom line.
NEW YORK (Fortune) -- Leo Mendoza is a typical IBM sales rep. Based in Chicago, he starts his day with a 5:45 a.m. swim at a local health club, then usually hits the road by 7:15 to see clients in Milwaukee or Racine. A couple of days a week, he works from home. How often does he see his boss in person? Maybe once a month, maybe less.
"Going mobile like this made me nervous at first," says Mendoza. "But after two or three months, that went away. I realized, hey, I can get my work done and make my numbers without going in to the office."
If you're like most managers these days, you have more and more people like Mendoza reporting to you -- that is, people you rarely lay eyes on. Consider: A 2008 study by high-tech think tank Nemertes Research found that 90% of U.S. employees now work somewhere other than headquarters, and 84% work in a different location than their bosses.
The years 2003 to 2008 saw an 800% jump in the number of "virtual employees". That group includes road warriors who travel constantly, telecommuters who work from home, and people in one-or-two-person offices spread out all over the globe.
Collaborating with peers and team leaders separated by vast distances is made possible by technology, of course, but virtual managers are discovering that technology alone doesn't build teams.
The '90s marketing catchphrase "high tech, high touch" applies here too: The more dazzling the gadgets people have at their disposal, the more they crave ordinary human contact -- or a close facsimile of it.
About 40% of IBM's 400,000 employees are now virtual. Since 1995, when IBM (IBM, Fortune 500) first began encouraging its employees to telecommute, the company has been working on building a sense of personal connection among far-flung workers.
"Humans are social animals. Without a real sense of community, most people just don't do their best work," says Dan Pelino, general manager of IBM's global health care and life sciences division.
Social networking that's encouraged
To combat a widespread feeling that IBM stood for "I'm By Myself", as an in-house joke had it, Pelino brought back IBM Clubs, an old company tradition that had been allowed to fall by the wayside.
The clubs, now active in several hundred cities in 30 countries, bring employees together for family events, like trips to the zoo, as well as for work-related meetings like coaching and mentoring sessions with senior executives.
Sales rep Leo Mendoza says the Chicago club has helped him bond with other mobile staffers. Three of them, whom he had befriended at an IBM golf outing, came to his wedding in Colorado, "even though it was a day's drive for them each way," he says. "I was really touched by that."
IBM, this year's Top Company for Leaders, is also using technology to whittle the distances between people. In 2007, for instance, a task force called OTTO (for Other Than the Office) created informal online networks of virtual employees who share ideas, advice, moral support, and scuttlebutt -- just like in-person cubicle mates.
The company added a social networking site called SocialBlue where employees post photos and bulletins about topics like their kids, their dogs, their motorcycles, and what they did over the weekend. It's a big hit with tens of thousands of IBMers worldwide, from new entry-level hires to senior vice presidents.
Employee surveys show that being able to work far from colleagues without losing touch has boosted employee satisfaction and makes top talent more inclined to stick around. IBM managers say SocialBlue has been a boon to teamwork and productivity -- ironic, since the site recreates the kind of water-cooler chitchat that might once have been considered a waste of company time.