Stocks at 13-month highs after modest gains
After languishing for most of the session, the major indexes finish at their highest level since October 2008.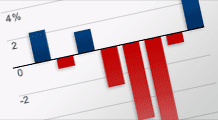 The recovery from the Great Recession has likely started. But many economists are worried about falling into another downturn. Here's what has them concerned.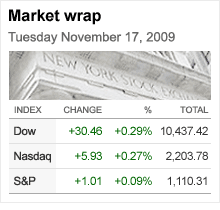 NEW YORK (CNNMoney.com) -- Stocks recovered from early losses Tuesday, closing at 13-month highs for the second day in a row, as strength in commodity-linked shares offset weakness in the retail sector.
The Dow Jones industrial average (INDU) rose about 30 points, or 0.3%, to close at 10,437.42. The S&P 500 (SPX) gained 1 point to close above the key 1,100 level. The Nasdaq composite (COMP) advanced 0.3% to end at 2,203.78.
All three indexes are at their highest levels since October 2008.
Stocks opened lower and struggled for most of the day as the dollar regained ground against rival currencies, reflecting a decreased appetite for risky assets.
The tone improved in the last few hours of trading as oil and gold prices reversed direction. Oil closed above $79 a barrel, while gold edged up to settle at a fresh all-time high.
The rebound in commodity prices boosted shares of energy and materials companies. But gains were limited by weakness in the retail sector after Home Depot and Target offered cautious earnings outlooks.
Tuesday's economic news was mixed. Government data showed inflation at the wholesale level remains subdued, while industrial production was weaker than expected in October.
Ryan Larson, senior equity trader at Voyager Asset Management, said the stock market continues to look to the dollar for direction.
"The main story has been the dollar trade," he said. "When the dollar is weak, investors take on more risk. If it's strong, they take the risk off."
The dollar has wallowed near a 15-month low against rival currencies in recent weeks as investors take advantage of U.S. interest rates near zero percent to fund bets in more risky stock and commodities markets.
However, after pushing the major indexes up some 30% from the lows of early March, investors have become wary of placing big bets as the economic outlook remains cloudy.
"The economy is growing, but shows a loss of momentum given the recent round of economic and corporate data," said Nick Kalivas, vice president of financial research at MF Global.
Investors will digest reports on consumer prices and initial construction of new homes Wednesday morning. Later in the week, the government will report on the number of Americans filing first-time claims for unemployment benefits.
Stocks rallied Monday as investors bet on the weak dollar and Federal Reserve Chairman Ben Bernanke said interest rates will remain low amid a slow recovery.
Economy: The government reported that the Producer Price Index, the key measure of inflation for manufacturers, edged up 0.3% in October. Core PPI, which excludes volatile food and energy prices, fell 0.6%.
The PPI was expected to have risen 0.5% for the month, according to a consensus of economist opinion from Briefing.com. The core was expected to have edged up 0.1% in October.
Before the start of market trading, the government also reported that industrial production rose 0.1% last month versus a forecasted 0.4% increase. In September, production rose 0.7%. Capacity utilization rose by 0.2 percentage point to 70.7%, a rate slightly below economists' expectations for 70.8%.
Companies: Home Depot (HD, Fortune 500) reported a decline in third-quarter earnings to 41 cents per share from 45 cents in the year-ago quarter. While the results were better than 36 cent per share profit that analysts had expected, the company said it expects earnings for the full year to be down 13%.
Discount retailer Target (TGT, Fortune 500) reported an 18% increase in third-quarter profit, helped by gains in the company's credit card portfolio. But Target, which had suffered declining profits for the last eight quarters, remained cautious about the outlook for holiday spending.
TJX (TJX, Fortune 500), which owns the T.J. Maxx and Marshalls chains, reported a larger-than-expected quarterly profit on increased consumer demand for discount products. The company said it expects profit from continuing operations of 65 cents to 71 cents per share in the fourth quarter. Analysts surveyed by Thomson Reuters are forecasting a profit of 71 cents per share in the fourth-quarter.
On the higher end, Saks (SKS) reported a quarterly profit, surprising analysts who were expecting the company to report a loss. However, the results were driven mostly by cost-cutting, and the company offered a cautious outlook.
International markets: The Nikkei and the Hang Seng each closed lower by a fraction of a percent. European markets ended with losses of less than 1%.
Other markets: Treasury prices rose, with the yield on the 10-year note falling to 3.33%.
The weak dollar recovered a little Tuesday. The dollar index, which measures the U.S. currency against a basket of rivals, was up 0.7% to 75.38 from 74.92.
Oil prices rose 24 cents to settle at $79.14 barrel in New York.
The price of gold closed at an all-time high of $1,139.40 an ounce, up 20 cents from Monday's record close of $1,139.80.

Features

These Fortune 100 employers have at least 350 openings each. What are they looking for in a new hire? More

It would be the world's second-biggest economy. See how big companies' sales stack up against GDP over the past decade. More