Stocks hit a roadblock
Major indexes retreat from 13-month highs after a surprise drop in new home construction fuels concern about the strength of the economic recovery.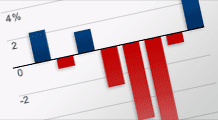 The recovery from the Great Recession has likely started. But many economists are worried about falling into another downturn. Here's what has them concerned.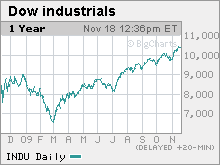 NEW YORK (CNNMoney.com) -- Stocks closed slightly lower Wednesday, paring deeper losses, after a drop in new home construction made investors jittery about the economic recovery and wary profit outlooks weighed on the technology sector.
The Dow Jones industrial average (INDU) was down 11 points, or 0.1%, to close at 10,426.3. The S&P 500 (SPX) fell less than one point to 1,109.8. The tech-heavy Nasdaq composite fell (COMP) 10 points, or 0.5%, to 2,193.1.
Stocks opened lower and struggled for most of the day before moving off session lows in the last 30 minutes of trade.
The modest retreat, which came one day after the major indexes closed at their highest levels in 13-months, was sparked by government data that showed initial construction of new single-family homes fell to a six-month low in October.
The unexpected drop came despite government efforts to stimulate the battered housing industry, and highlighted fears that stocks may have gotten ahead of economic reality.
"A lot of people were betting on a housing recovery," said Abigail Doolittle, a portfolio manager at Johnson Illington Advisors. "The decline in construction starts is probably making some people nervous."
Investors were also focused on the outlook for the technology sector after Salesforce.com and Autodesk offered cautious earnings guidance for the fourth quarter.
Tech giant Hewlett-Packard (HPQ, Fortune 500) was among leading decliners on the Dow, while Microsoft (MSFT, Fortune 500) bucked the trend.
Shares of Bank of America (BAC, Fortune 500) rose 3.68% after hedge-fund guru John Paulson reportedly told investors that he expects the stock price to almost double in the next two years.
Meanwhile, the dollar fell broadly against rival currencies, with the euro climbing near $1.50 at one point.
The weak dollar helped push gold prices to another all-time high, while oil prices closed above $79 a barrel.
Investors have looked to the dollar for direction in recent weeks, with a softer greenback normally reflecting a stronger appetite for risky assets such as commodities and stocks.
But with the major indexes up some 30% from the lows of early March, many investors have become reluctant to push the market higher until they see more concrete signs that an economic recovery is underway.
"At the margin, the economic data has been stabilizing," said Lawrence Creatura, a portfolio manager with Federated Clover Investment Advisors. "It's been 'less bad' and that has been enough for investors up to now. Whether 'less bad' continues to be enough remains to be seen."
Analysts said the volume of shares trading hands recently has been low, suggesting that many big investment funds have moved to the sidelines to avoid jeopardizing gains before publishing year-end results.
On the New York Stock Exchange, losers topped winners 3-to-1 on volume of 858 million shares. On the Nasdaq, decliners toped advancers almost 2-to-1 on volume of 1.8 billion shares.
Economy: The government reported that housing starts fell more than 10% to an annual rate of 529,000 in October, the lowest level in six months. An annual rate of 600,000 housing starts was expected, according to a forecast from Briefing.com consensus. The revised rate for September was 592,000.
The government reported that the annual rate of housing permits fell 4% to 552,000 in October, from the revised September rate of 575,000. This was lower than the 580,000 permits expected for October, according to Briefing.com consensus. .
The government also reported its Consumer Price Index, a key measure of inflation, rose 0.3%.
The CPI was expected to rise 0.2% in October, according to a consensus of economists surveyed by Briefing.com.
The core CPI, which excludes volatile food and energy prices, rose 0.2% in October. That was slightly more than the 0.1% increase expected for October, according to Briefing.com consensus.
Companies: Salesforce.com (CRM), which makes Web-based business software, reported third-quarter earnings that were in line with analyst expectations. But the results also showed a slowdown in contracts for new business, which sent shares down more than 3%.
Shares of Autodesk (ADSK) plunged 10% after the maker of computer-aided drafting software forecast fourth-quarter earnings that were below Wall Street's consensus view.
On Tuesday, Goldman Sachs (GS, Fortune 500) said that it is launching a $500 million initiative aimed at propping up small businesses.
Obama administration officials, including Treasury Secretary Tim Geithner, are due to meet Wednesday to address the small business lending drought.
World markets: Japan's Nikkei index finished the session 0.6% lower. Major indexes in Europe closed mixed.
Currency and commodities: The dollar, which has suffered from recent weakness, was down versus all major currencies. The dollar index (DXY), which measures the U.S. currency's value against a basket of rivals, was down 0.3% to 75.14
The price of oil rose 56 cents to end at $79.58 per barrel after hitting a high of $80.33 earlier in the session.
Gold rose $1.80 to settle at another all-time high of $1141.20 an ounce. It also hit a record trading high of $1,149.40 an ounce.
Bonds: Treasury prices fell as investors focused on Wednesday's inflation report. The yield on the benchmark 10-year note, which moves opposite its price, rose to 3.36% from 3.32% late Tuesday.

Features

These Fortune 100 employers have at least 350 openings each. What are they looking for in a new hire? More

It would be the world's second-biggest economy. See how big companies' sales stack up against GDP over the past decade. More