You don't have to be a millionaire to buy a house
More than 70% of homes sold during the third quarter were deemed affordable. Now is a good time to buy.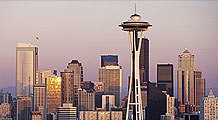 The average home price is forecast to plummet over the next two years. But these 7 cities are predicted to post gains.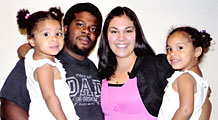 These 7 new homeowners stepped up their house-hunting to take advantage of the first-time buyer tax credit.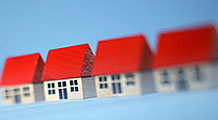 The national median home price fell 11.4% during the third quarter of 2009. Check how prices fared in your hometown..
More
NEW YORK (CNNMoney..com) -- The Great Recession has ravaged savings and boosted unemployment rates, forcing people become more conservative with their cash. It has also made homes a lot more affordable -- at least for those people still working.
The typical American family, making the nation's median income of $64,000 a year, could afford to buy 70.1% of all homes sold in the United States during the third quarter, according a quarterly report from the National Association of Home Builders (NAHB) and Wells Fargo (WFC, Fortune 500).
That's down slightly from the previous quarter, when 72.3% were considered affordable, but way up from the third quarter of 2008 when only 56.1% qualified.
The NAHB judges a home to be affordable if a family making the metro area's median income could buy it if they devote no more than 28% of their gross pay toward housing costs.
The affordability pushed many buyers into the market last quarter. Plus, they wanted to take advantage of the $8,000 homebuyer's tax credit that was scheduled to expire on Nov. 30.
Those that procrastinated, however, got lucky: The credit was recently extended and expanded to include more buyers.
"At a time when housing is at its most affordable, we applaud the recent actions taken by Congress and President Obama to stimulate housing by extending the federal tax credit beyond its Nov. 30 deadline and expanding it to a wider group of eligible home buyers," said NAHB Chairman Joe Robson, a home builder from Tulsa, Okla.
"With interest rates now lower than last quarter, the tax credit will encourage even more home buyers to enter the market and help stabilize housing and the economy by creating new jobs, stimulating home sales, reducing foreclosures, cutting excess inventories and stabilizing home prices."
Extremes of affordability
All real estate is local, of course; it doesn't matter much to someone buying in Peoria what homes sell for in Pawtucket. The fact is, though, that housing markets across much of the nation have been and remain quite affordable for most working households.
In Indianapolis, for example, the median household income is $68,100 a year. Figuring conservatively that no more than 28% of household income should go to pay for housing expenses, buyers could afford a house costing well over $250,000.
Although, they could do much better: The median home price in the Indiana capital -- which has been the nation's most affordable town for 17 consecutive quarters -- was a mere $105,000.
Affordability is highest in the industrial Midwest, where home prices have been kept down by slow population growth -- even population loss -- and wages that remain relatively high.
The second most affordable metro area found by NAHB and Wells Fargo was the Youngstown, Ohio, area. The median home price there came in at just $72,000 last quarter and the median income was $54,300. That meant some 93.9% of homes sold were affordable.
At 92.2%, Detroit was the third most affordable metro area with household income averaging $57,100 and the median home selling for $84,000.
The least affordable metro area was New York, where prices are high (a median of $425,000) and income is moderate ($64,800). Only 19.2% of homes sold there were affordable to households earning the median income.
Second least affordable was San Francisco, followed by Honolulu and Santa Ana, Calif.
One man's meat . . .
What's good for buyers is pure poison for sellers, who are the big losers as affordability improves. Prices have fallen more than 30% from their peaks, according to the S&P/Case-Shiller Home Price Index and many people selling their homes these days are taking losses.
According to data from Zillow.com, the real estate information Web site, 27% of all sellers during the quarter received less than what they paid for their homes.
The losses were especially common in erstwhile bubble markets. Nearly two-thirds of sellers in the Orlando, Fla., metro area took losses; as did 60% of Lakeland, Fla. sellers; and 57% of those in Stockton, Calif.
Less than 5% of Fayetteville, N.C., sellers took less than what they paid; and slightly more than 5% of those in Yakima, Wash., sold for less.
Correction: An earlier version of this story said the NAHB judges a home to be affordable if a family making the metro area's median income could buy it if they devote no more than 28% of their take-home pay toward housing costs. It is 28% of gross income.

Features

These Fortune 100 employers have at least 350 openings each. What are they looking for in a new hire? More

It would be the world's second-biggest economy. See how big companies' sales stack up against GDP over the past decade. More