AIG chief Benmosche inks pay deal
The troubled insurer says Robert Benmosche has officially agreed to compensation package that could total $10.5 million.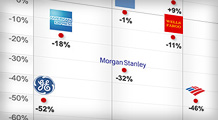 Key financial firms received a wide range of assistance during the past year. But scroll over their stocks and you'll find few winners – and plenty of losers.
More
NEW YORK (CNNMoney.com) -- After balking at government imposed pay restrictions, American International Group's chief executive Robert Benmosche has officially agreed to a non-compete contract that could total $10.5 million, the company announced Tuesday.
Benmosche, who was named CEO in August, had expressed frustration with the constraints placed on AIG by the government after the global insurance company was bailed out last year.
He reportedly threatened to quit his post in board meetings earlier this month, before issuing a statement saying he is "totally committed" to staying on as CEO.
AIG spokesman Mark Herr said Benmosche agreed to a "non-compete" contract and that he is "committed to staying" at AIG.
Benmosche is one of several high-level executives at seven private companies under the purview of the Obama administration's "pay czar" Kenneth Feinberg.
In October, Feinberg unveiled a series of drastic pay cuts for 136 top executives at seven of the nation's biggest bailed-out companies, including AIG (AIG, Fortune 500), Citigroup (C, Fortune 500), and Bank of America (BAC, Fortune 500).
AIG received a $182 billion lifeline from the government last year as the credit crisis forced the company to the brink of collapse. In exchange, the government took an 80% ownership stake in the company.
Despite ongoing criticism of the company's compensation practices, Benmosche successfully negotiated the largest award of any CEO under the government's new curbs on executive pay.
In a press release, AIG said it will implement Benmosche's previously announced compensation agreement, which includes a $3 million base salary and $4 million in AIG common stock.
Under the terms negotiated with Feinberg, Benmosche also stands to take home a $3.5 million bonus.
Benmosche will receive AIG stock in bi-weekly awards as part of an "employment inducement" program. The shares will vest immediately upon award, but are restricted from sale for five years from Benmosche's hire date.

Features

These Fortune 100 employers have at least 350 openings each. What are they looking for in a new hire? More

It would be the world's second-biggest economy. See how big companies' sales stack up against GDP over the past decade. More