Wall Street puts holiday parties on ice
With the public up in arms about bonuses and bailouts, most financial firms are nixing holiday soirees once again.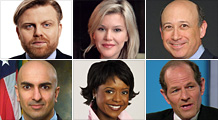 Would panic prevail? That was the question gripping the world in the days surrounding the fall of Lehman Brothers on Sept. 15, 2008. One year after that terrifying Monday, the people who struggled to cope with the financial crisis share what they were thinking as chaos broke out.
NEW YORK (CNNMoney.com) -- Life might be good again on Wall Street these days, but financial firms are taking pains not to pop the champagne corks this holiday season.
Faced with a public relations nightmare over bailouts and bonuses, many financial institutions are either nixing company-sponsored events altogether or are simply planning quiet, in-house fêtes in an effort to avoid scrutiny.
Veteran investment banks Morgan Stanley (MS, Fortune 500) and Goldman Sachs (GS, Fortune 500), for example, have both said they do not plan on hosting any company-sponsored holiday events this year.
A Morgan Stanley spokesperson said the company plans on giving the money that would have been allocated for a party to a yet-to-be-determined charity.
Embattled lenders Bank of America (BAC, Fortune 500) and Citigroup (C, Fortune 500), both of whom boast sizeable investment banking and securities trading divisions, said there were no plans to sponsor a staff holiday party this year.
Bank of America workers are free to organize a donation to a local charity, while Citi employees can celebrate outside of work, although they would not be reimbursed, according to company spokespeople.
And if reports about rival JPMorgan Chase (JPM, Fortune 500) hosting its own party at the former Bear Stearns headquarters are to be believed, the event promises to be a relatively tame affair.
"Now is not the time to show off," said Brad Hintz, a Sanford Bernstein analyst who tracks several bulge bracket banks. "Right now everyone is being very low key."
Times have changed
During the boom years, it wasn't unheard of for such companies to spend tens of thousands of dollars or more to host their annual soirees at tony restaurants such as Cipriani or trendy New York City nightclubs such as Lotus or BLVD.
In one seemingly extreme instance, UK-based Barclays, which became famous for buying the business of Lehman Brothers last year, reportedly spent about $1.2 million on a lavish holiday party for 3,000 guests in London two years ago. The company declined comment when asked whether it had plans for this holiday season.
After Lehman Brothers' collapse however, the partying came to a screeching halt. Nearly every Wall Street firm cancelled any previously arranged holiday plans amid fears that the nation's economy was about to enter a severe recession.
Since then, many financial firms have enjoyed a robust recovery, particularly in such areas as their underwriting and bond trading divisions.
This year, however, the fear is that it would be in bad form to celebrate publicly at a time when Main Street is still seething over the financial mess that Wall Street created.
Not only do Americans and lawmakers remain incensed over multiple bailouts for companies like AIG (AIG, Fortune 500), Citigroup and Bank of America, but talk of massive paydays for bankers and traders this bonus season continues to spark outrage among taxpayers.
Economic woes have only fanned those emotions, as more than 10% of the country's workforce remain unemployed and many Americans struggle to stay in their homes. As a result, many financial companies have put the kibosh on the holiday party altogether.
"There is still a high unemployment rate and people who are unable to pay their mortgage," said Marcia Horowitz, a senior executive vice-president at the New York-based public relations firm Rubenstein Associates, which advises a number of clients in the financial services industry. "I think the right tone is one that is low key."
Pariah-of-the-moment Goldman Sachs, for example, reportedly went so far as to dissuade its own employees from celebrating outside of the office this holiday season. But a Goldman Sachs spokeswoman said the reports are not true, and that the company has only said that it is not organizing or sponsoring any holiday parties.
And even as embattled firms like Bank of America, Citi and AIG (AIG, Fortune 500) have showed some indications their health is improving, all three firms have been extremely cautious about spending in an effort to demonstrate to regulators and lawmakers that they are taking pains to pay back taxpayer aid.
All three firms recently had pay packages for their top 25 executives scrutinized by White House pay czar Kenneth Feinberg. He is now reviewing compensation plans for the next 75 highest-paid employees at each company.
At least Wall Street can take some comfort in not being alone.
Holiday celebrations across the country are expected to remain at record lows, unchanged from last year, according to executive search firm Battalia Winston Amrop. In its latest survey of approximately 100 companies across different industries, just 81% said they plan on hosting holiday parties this year.

Features

These Fortune 100 employers have at least 350 openings each. What are they looking for in a new hire? More

It would be the world's second-biggest economy. See how big companies' sales stack up against GDP over the past decade. More