With ads off the air, Tiger takes leave from golf
Golfer remains on TV as a subject of public scrutiny, but his commercials have not appeared since Nov. 29.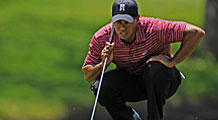 In a world of uncertainty, we could all use a little advice. So we asked a host of influential leaders to share with us the wise words that changed their lives forever.
NEW YORK (CNNMoney.com) -- Tiger Woods is all over the TV, but his ads haven't been.
Commercials featuring the golfer were virtually constant until late last month, when his involvement in an auto accident outside his home led to a swirl of controversy involving his marital life.
On Friday, a notice on the golfer's Web site, tigerwoods.com, said he will be taking "an indefinite break from professional golf." He also, for the first time, said he was "aware of the disappointment and hurt that my infidelity has caused to so many people, most of all my wife and children."
"I need to focus my attention on being a better husband, father and person," the statement said. (CNN.com: Tiger Woods taking 'indefinite break')
Two days later, Accenture became the first major sponsor to drop Woods.
"Given the circumstances of the last two weeks, after careful consideration and analysis, the company has determined that he is no longer the right representative for its advertising," Accenture said Sunday in a statement posted on its Web site.
Another major sponsor, Gillette, said Saturday it was "limiting" Woods' role in its marketing programs to give him the privacy to work on family relationships.
According to media tracker Nielsen, the last time a commercial featuring Woods appeared on television was Nov. 29. The 30-second Gillette ad aired during NBC's "Football Night in America," the pre-game show that broadcast prior to the Sunday night football game.
The ad featured Woods, New York Yankees shortstop Derek Jeter, Spanish basketball phenom Ricky Rubio and an announcer who says, "Here's to confidence," and aired eight times during November, according to Aaron Lewis, a spokesman for Nielsen.
Since then, no Woods commercials have aired, not even last weekend during the Chevron World Challenge, the golf tournament hosted by Woods since 2001.
The move to pull Tiger ads was not unexpected. CNNMoney.com reported last week that sponsors have opted to continue their business relationships with Tiger but would hold back their commercials for several weeks.
"Brands that planned to use Tiger in any meaningful way in the next few weeks would be looking to perhaps do something else, both out of respect for Tiger and because now isn't the best time to have him out there peddling their product," Paul Swangard, managing director of the Warsaw Sports Marketing Center at the University of Oregon, told CNNMoney.com on Nov. 30.
Prior to Friday's announcement, Tiger's sponsors, which include Nike (NKE, Fortune 500), Gatorade and Electronic Arts (ERTS), had pledged their support of Woods and opted to retain the golfer as their spokesman, despite allegations of extramarital affairs and Woods' recent admission of undisclosed "transgressions."
On Friday, after the disclosure of the leave, a Nike spokeswoman issued a statement supporting Woods. "We look forward to his return to golf," said Beth Gast, public relations manager. "He and his family have Nike's full support."
Electronic Arts also expressed support, saying "At this time, the strategy for our 'Tiger Woods PGA Tour' (video game) business remains unchanged."
Other partners, including AT&T (T, Fortune 500) and Tag Heuer, have not issued comments about their sponsorship of Tiger.

Features

These Fortune 100 employers have at least 350 openings each. What are they looking for in a new hire? More

It would be the world's second-biggest economy. See how big companies' sales stack up against GDP over the past decade. More