Tiger Woods' sponsorship deathwatch
As the number of women grows, observers wonder whether sponsors will sever ties with the golfer.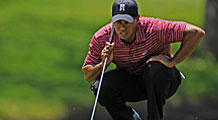 In a world of uncertainty, we could all use a little advice. So we asked a host of influential leaders to share with us the wise words that changed their lives forever.
NEW YORK (Fortune) -- As Tigergate continues to unfold, the million-dollar question -- actually, make that the billion-dollar question -- remains: will his sponsors stick around?
Chief among Woods' accomplishments is that he's the first athlete said to hit a billion in career earnings -- but most of that kitty comes from endorsements. According to Sports Illustrated, Woods' on-course earnings amounted to only 7% of the nearly $100 million he took home in 2008.
So far, Woods' boosters, including Gillette, Accenture, Nike (NKE, Fortune 500) and Electronic Arts (ERTS), are all still on board. PepsiCo-owned Gatorade caused a brief stir yesterday when it announced it would discontinue selling Gatorade Tiger Focus in 2010.
But so far, that seems to be unrelated to recent events; the news was first reported in the November 25 issue of Beverage Digest, several days before the golfer's Thanksgiving-day accident that triggered the revelations. (Indeed, Tiger Focus may be the one bust in the world of Woods endorsements: according to Beverage Digest editor John Sicher, sales of the drink were down 34% through October 2009.)
Gatorade spokeswoman Jennifer Schmit declined to comment to Fortune on Gatorade's relationship with Woods going forward, but the company released a statement that "Tiger and his family have our support as they work through this private matter."
Tiger's other brands are standing by their man, too. "Nike supports Tiger and his family," was the official statement from the sports brand, which is said to pay him more than $30 million a year.
Electronic Arts, maker of Woods' eponymous best-selling video games, declared its unequivocal support too: "Our strong relationship with Tiger for more than a decade remains unchanged. We respect Tiger's privacy, we wish him a fast recovery and we look forward to seeing him back on the golf course."
Despite the claims of solidarity, though, some observers have begun an endorsement deal deathwatch. As the number of women with whom Woods is linked grows each day -- and he refuses to address the escalating situation -- it becomes increasingly difficult for sponsors to position him as a credible frontman. Indeed, according to media tracker Nielsen, the last time a commercial featuring Tiger Woods appeared on television was Nov. 29.
It's no wonder, since the ads now drip with irony. Taglines in Woods' ads for Accenture offer such life lessons as, "It's what you do next that counts" and "The road to high performance isn't always paved." Watchmaker Tag Heuer has featured Woods in ads that ask the newly relevant question, "What are you made of?"
But Gillette may win the award for unintended innuendo. In an all-star ensemble campaign for the Procter & Gamble-owned megabrand, Woods appears with Roger Federer and soccer star Thierry Henry as dapper men about town, sporting black suits and sly expressions.
In a related feature on Gillette.com, Woods reveals one of his favorite gadgets is his "phone for texting." He also appears in a blurb about the importance of pre-game rituals, "whether it's getting ready for the big game or the big night out." A spokesman for Gillette said it is not making any changes to its existing marketing plans and that the company does not comment on future marketing plans.
No one can predict the breaking point for Woods' sponsors. Whether the number of women is 12 or 20, his character has been irreparably tarnished. But it's still unclear if his indiscretions have the potential to completely negate his accomplishments.
Some observers look to past examples, like NBA star Kobe Bryant, for evidence that Woods could survive this by reaffirming his dominance on the golf course.
After being accused of rape in 2003, Kobe Bryant lost some of his endorsements, including McDonald's (MCD, Fortune 500) and Nutella. But Nike held on, and though it stopped promoting him, the company started using him again in 2005 after he started playing well again. Last year, Bryant signed a high-profile deal with VitaminWater and took in $35.5 million in total, according to Sports Illustrated.
But there is no real precedent for Woods, the one-man, worldwide, billion-dollar brand. Bruce Lucker, president of Signature Golf, a marketing company serving the golf industry, says sponsors will think long and hard before they give Tiger up if only for one reason: a competitor might jump to sign him. "Accenture picked up Tiger, so KPMG picked up Phil [Mickelson]," Lucker points out. "Gillette's thinking, 'If I give him up, he's going to Schick.'"
More likely, Lucker says, is that Woods' existing sponsors will use the scandal the way any savvy dealmaker would: as leverage. Woods' endorsers, he suggests, could try to negotiate new deals with lower costs and more access. "Then they'll just reframe how they use him."
Whatever happens, the scandal could leave a permanent mark on the marketability of golf in general. Marketers say the sport and its athletes are often sought out by big brands precisely because of its mannerly image and the perception that its athletes are better behaved.
"Fundamentally, golf is about honesty and the integrity of the player and calling penalties on yourself," says Lucker. "That's why sponsors choose to support golf instead of the NFL or NBA where these guys are constantly getting into trouble."