Stocks in broad-based rally
Wall Street advances as improved readings on trade deficit and housing market reassure investors about the economic recovery. Dollar flip flops.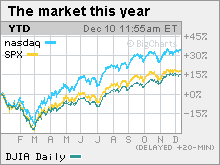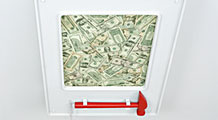 Low interest rates and the recent stock market surge make this a challenging time to find the best places for your extra cash.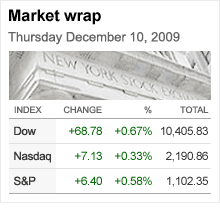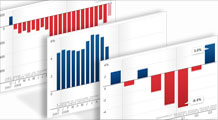 The economy has grown for five straight quarters, but there are signs that the recovery is still fragile.
NEW YORK (CNNMoney.com) -- Stocks rallied Thursday as investors sorted through a bevy of reports on jobs, housing, net worth and the deficit -- and opted to scoop up a variety of shares.
A seesawing dollar was also in focus.
The Dow Jones industrial average (INDU) rose 69 points, or 0.7%. The S&P 500 index (SPX) added 6 points, or 0.6%. The Nasdaq composite (COMP) gained 7 points, or 0.3%.
Gains were broad based, with 24 of 30 Dow stocks rising, led by commodities and consumer names. Gainers included Alcoa (AA, Fortune 500), Chevron (CVX, Fortune 500), Walt Disney (DIS, Fortune 500), Johnson & Johnson (JNJ, Fortune 500) and Wal-Mart Stores (WMT, Fortune 500).
Stocks rose more sharply in the first minutes of trade, with the Dow adding as much as 107 points on the weak dollar. But the dollar seesawed throughout the session, cutting into gains.
The weak dollar has helped stocks rally over the past nine months, with the S&P 500 now up 62% from 12-year lows hit on March 9. The weaker dollar has given a boost to dollar-traded commodity shares and the stocks of companies that do business overseas.
But in the last few weeks, the dollar has zigzagged and so have stocks. Stocks have also been volatile due to the lighter trading volume this month, with many investors opting to coast through year end rather than shake up their portfolios at the end of the tumultuous year.
"We've come an awfully long way in 12 months, both in terms of equity markets and in terms of bonds," said Mark Travis, president and CEO at Intrepid Capital Funds. "I think at this point people are starting to pause, and you're not likely to see much of a change in direction for the last few weeks of the year."
Stocks gained Wednesday as the falling dollar boosted commodity stocks, and a rise in wholesale inventories and an upgrade of 3M provided some optimism.
Job market: The number of Americans filing new claims for unemployment rose last week to 474,000 from 457,000 in the previous week, the Labor Department reported. Economists expected claims to fall to 455,000, on average, according to a Briefing.com survey.
However, continuing claims, the number of Americans receiving benefits for a week or more, declined more than expected. Continuing claims fell to 5,157,000 from 5,460,000 in the previous week. Economists expected 5,450,000 claims.
Trade gap: The Commerce Department said early Thursday that the nation's trade gap narrowed in October to $32.9 billion from a revised $35.7 billion in September, thanks to a jump in exports. Economists, on average, thought it would widen to $36.8 billion.
The Treasury Department reported a $120.3 billion deficit for the month of November, the 14th straight month it has spent more than it earned.
Net worth rises: For the second straight quarter, Americans' net worth rose, according to a Federal Reserve report released Thursday afternoon.
Net worth, the value of assets like homes minus debts like mortgages, grew $2.7 trillion or 2% in the third quarter to an estimated $53.4 trillion. Gains in stock investments and home values led to the rise.
However, net worth remains far below the peak in the second quarter of 2007, before the start of the recession. At that point, net worth peaked at $65.3 trillion.
Housing: Foreclosure filings fell 8% in November from October, according to RealtyTrac, an online marketer of foreclosed properties. That means November is the fourth month in a row in which foreclosure filings have dropped.
But foreclosures are still up 20% from a year ago.
Separately, Treasury said in the afternoon that only 4% of troubled borrowers have gotten long-term mortgage help under the Obama administration's foreclosure prevention program.
Geithner: Treasury Secretary Timothy Geithner testified Thursday before the Congressional Oversight Panel about the government's bailout of the financial system.
Geithner said the Troubled Asset Relief Program (TARP) helped the United States avoid a complete financial meltdown, but that the economy is still facing significant headwinds. He said these headwinds are why he decided on Wednesday to extend TARP through October 2010, rather than letting it expire at the end of this year.
On Wednesday, the panel said that while TARP helped stabilize the banking system, it failed to boost spending or stop foreclosures.
Companies: Goldman Sachs (GS, Fortune 500) said Thursday that top executives will not be paid cash bonuses this year and will instead receive a special form of company stock.
The decision comes amid growing criticism of the bank's plan to pay out huge bonuses on par with those given out in 2007, ahead of the credit crisis.
Ciena (CIEN) posted a wider-than-expected fiscal fourth-quarter loss as a result of rising costs. The networking gear maker also forecast better-than-expected revenue in the current quarter. But investors focused on the loss, sending shares more than 11% lower in active Nasdaq trading.
AOL (AOL) began trading Thursday after completing its spinoff from CNNMoney.com parent Time Warner (TWX, Fortune 500) Wednesday, ending what is considered to be one of the worst mergers in corporate history. Shares were little changed.
Warehouse club operator Costco (COST, Fortune 500) posted fiscal first-quarter earnings of 60 cents per share versus 65 cents a year ago, in line with analysts' estimates.
Market breadth was positive and volume was moderate. On the New York Stock Exchange, winners topped losers three to two on volume of 1.06 billion shares. On the Nasdaq, decliners topped advancers eight to five on volume of 1.97 billion shares.
World markets: Overseas markets were mixed. In Europe, London's FTSE 100 rose 0.8%, the German DAX rose 1.1% and France's CAC 40 rose 1.1%. Asian markets ended lower.
Commodities: Gold prices rallied and oil prices dipped, giving up bigger morning gains after the dollar turned positive. Dollar-traded oil and gold prices tend to move in the opposite direction of the dollar.
COMEX gold for February delivery rose $5.30 to settle at $1,126.20 an ounce. Gold closed at an all-time high of $1,218.30 an ounce last week.
U.S. light crude oil for January delivery fell 13 cents to settle at $70.54 a barrel on the New York Mercantile Exchange.
Bonds: Treasury prices fell, raising the yield on the 10-year note to 3.48% from 3.42% late Wednesday. Treasury prices and yields move in opposite directions.

Features

These Fortune 100 employers have at least 350 openings each. What are they looking for in a new hire? More

It would be the world's second-biggest economy. See how big companies' sales stack up against GDP over the past decade. More