Goldman nixes cash bonuses for top execs
CEO Lloyd Blankfein and 29 other members of firm's management committee will instead get restricted stock; company also institutes shareholder 'say on pay'.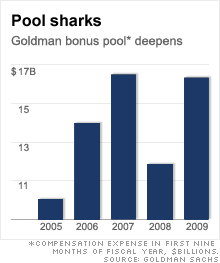 NEW YORK (CNNMoney.com) -- Top executives at Goldman Sachs will not be paid cash bonuses this year, the company said Thursday.
In the face of public outrage over Wall Street bonuses, the company said that its 30-member management committee will receive restricted company stock instead.
Goldman Sachs' (GS, Fortune 500) bonus pool is currently on track to hit $21 billion for 2009, which would match the record amount the company paid out in 2007.
But while this new pay policy is making headlines, it will only affect a handful of Goldman's 32,000 worldwide employees, leaving the bulk of its bonus pool intact.
In any given year, the members of the management committee typically claim anywhere from 1.5% to 2.5% of the total bonus pool, according to Russell Miller, managing director with ClearBridge Compensation Group in New York.
Using the high end of the estimate, that means top executives would split about $315 million, which comes to roughly $10.5 million each.
"It is a small fraction of the total, but a meaningful amount to each individual," said Miller.
That leaves more than $20 billion for the company to dole out to middle management and lower level employees.
Goldman has tried to tame the public furor over speculation that the company is on track to pay some of its biggest bonuses since the financial crisis erupted. Americans have become particularly incensed after forking over billions of dollars to keep the firm from going under last fall.
Thursday's announcement includes additional bonus restrictions. The management committee won't be able to sell the shares they're awarded for five years.
Additionally the firm is beefing up accountability even after these bonuses have been issued. A new provision will allow Goldman to take back these shares in the event that an employee "engaged in materially improper risk analysis or failed sufficiently to raise concerns about risks."
The company also announced Thursday that it will give investors an advisory vote, or "say on pay," for its top executives at next year's shareholder meeting.
Blankfein defended the board-mandated changes Thursday, noting that they were part of of a larger plan to revamp the company's compensation practices announced last spring.
"We believe our compensation policies are the strongest in our industry and ensure that compensation accurately reflects the firm's performance and incentivizes behavior that is in the public's and our shareholders' best interests," he said in a statement.

Features

These Fortune 100 employers have at least 350 openings each. What are they looking for in a new hire? More

It would be the world's second-biggest economy. See how big companies' sales stack up against GDP over the past decade. More