U.S. household net worth grows by $2.7 trillion
Rising stock prices and an improved housing market lift Americans' net worth by 5% to $53.4 trillion in the third quarter.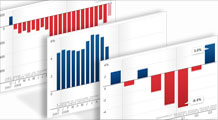 The economy has grown for five straight quarters, but there are signs that the recovery is still fragile.
NEW YORK (CNNMoney.com) -- Household net worth in the United States rose for the second quarter in a row, growing 5% to an estimated $53.4 trillion in the third quarter, the Federal Reserve said Thursday.
The $2.7 trillion rebound in net worth, which is the difference between a household's assets and liabilities, comes as stock prices have rallied this year, boosting the value of Americans' investment portfolios.
Stock holdings rose by nearly 17% to $7.4 trillion, according to the central bank's quarterly flow of funds report.
Net worth was also supported by improvements in the housing market. Real estate values increased by 2% to $16.5 trillion in the third quarter after rising in the second quarter for the first time since late 2006.
Despite the recent recovery, household net worth remained well below the highs of just two years ago. In the second quarter of 2007, net worth peaked at $65.3 trillion.
The gains in net worth came as the U.S. economy has begun what many experts say will be a long and slow recovery from one of the worst downturns on record.
But with the nation's jobless rate at 10%, most economists expect Americans to remain wary of spending big on discretionary items and to continue paying down debt.
Household debt shrank by an annual rate of 2.6% in the third quarter, the fifth consecutive decline.
Businesses also continued to pare back their debt loads. The Fed report showed business debt excluding banks decreased by an annual rate of 2.6% in the quarter.
Meanwhile, the federal government's debt rose at an annual rate of 21% in the quarter. That's down from the 28% rate in the previous quarter, but was the fifth consecutive increase of more than 20%.
State and local government debt rose at an annual rate of 5.1% in the third quarter.

Features

These Fortune 100 employers have at least 350 openings each. What are they looking for in a new hire? More

It would be the world's second-biggest economy. See how big companies' sales stack up against GDP over the past decade. More