Can Obama bully the bankers?
The president wants more lending, less gouging and smaller paychecks. But after a year of pro-bank policies, he may not carry a big enough stick.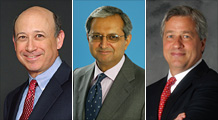 A run-down of six of the banks invited to discuss financial reform and lending with President Obama.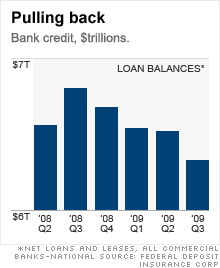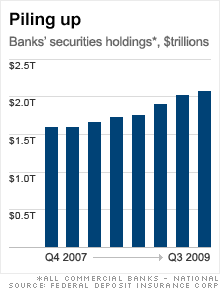 NEW YORK (Fortune) -- President Obama is about to give the banks an earful about lending. But he may be a day late -- and $116 billion short.
Obama will meet Monday with top executives of some of the nation's biggest lenders.
CEOs of 12 banks are expected, including the heads of American Express (AXP, Fortune 500), Bank of America, Capital One (COF, Fortune 500), Citigroup, JPMorgan Chase, Morgan Stanley, and Wells Fargo.
The president is expected to say he wants to see more loans for the sake of economic recovery. He'll also urge execs to curb compensation, to stop gouging customers with high credit card rates and hidden overdraft fees, and to support financial reform efforts.
But some observers question that the administration can make its message stick. The reason: It no longer has much leverage over the banks because it so readily accepted repayment of bailout money -- $116 billion in all.
That sounds great on a budget report, but now policymakers have little power over bankers who have their own priorities, namely, making money.
"The great tragedy of it all is that the brain-dead banker doesn't have a financing worry in the world, but there are small businesses that cannot get credit at any price," said David M. Smick, who runs the Johnson Smick International financial market advisory firm in Washington. "They mishandled the return of TARP, which means all the talk now is just a side show."
The big banks have been raking in profits and soaring in the stock market, thanks to the Fed's embrace of zero interest rates and other government support. Among other things, the banks have been borrowing at rock-bottom rates and gobbling up risk-free Treasury securities, pocketing the difference.
Trading titans Goldman Sachs (GS, Fortune 500) and JPMorgan (JPM, Fortune 500) each posted more than $3 billion in third-quarter profits, and the KBW index of U.S. large commercial bank stocks is up 145% off its March panic low.
Big profits, but not much lending
But the banks have been considerably less adept at making new loans, which could threaten the economic recovery when stimulus spending slows next year.
Consumer credit dropped in October for the ninth straight month, the Federal Reserve said this month, while loan balances at commercial banks fell at the fastest clip in at least 25 years in the third quarter.
Eight of the 10 biggest small business lenders posted smaller loan balances at the end of the third quarter, with loans falling 9.5% over the past year at PNC (PNC, Fortune 500) and 5.8% at American Express.
At Citigroup (C, Fortune 500), the New York-based bank that is the biggest recipient of federal aid, loans outstanding fell by 15% in the year ended Sept. 30.
At JPMorgan Chase, widely applauded for avoiding most of the subprime landmines, loans fell 14% over the same period.
What banks say: The banks stress that they are working to rebuild their capital cushions at a time when losses on credit card loans and other borrowings are at all-time high levels.
They say loan demand is weak, as overextended consumers try to rebuild their own balance sheets.
And regulators, having dozed through most of a decade, are now stressing the need to make only prudent loans.
This is all plausible -- but it need not have mattered, Smick notes. Obama, he said, had an ample club at his disposal: He could have chosen not to accept repayment of TARP funds until unemployment started falling and other economic indicators turned positive.
"He had his chance to say no when the banks wanted to return the money," said Smick. "If you make them hold onto the TARP funds, you can say, 'I want you to lend that money out.'"
Instead, the administration was eager to extricate itself from toxic questions about government involvement in the economy. It accepted TARP repayment checks from Goldman Sachs, JPMorgan and numerous others in mid-June, less than eight months after they accepted billions in funds that officials said were intended to support lending.
This was far from the only bank-friendly decision by an administration that has, among other things, opposed proposals to break up the biggest banks for the sake of the safety of the financial system. Still, it left some investors scratching their heads.
"Policymakers were hellbent to get TARP money into the banks, whether they wanted it or not, and then they were hellbent to get the TARP money back out," said David Kotok, who runs the Cumberland Advisors investment advice firm in Vineland, N.J. "The government is acting counter to normalcy at every turn."
Obama knows he has public opinion on his side. At his first meeting with the bank CEOs in March, he reportedly warned the executives that the administration "is the only thing between you and the pitchforks."
The danger now is that the CEO summit will spur no meaningful action. Instead, Smick said, it could devolve into "just a good old-fashioned demagoging of the banks."