Stocks skid after Fed holds rates
NEW YORK (CNNMoney.com) -- Stocks ended mixed Wednesday after the Federal Reserve left interest rates unchanged, saying market conditions were helping the recovery but weakness will persist.
The Dow Jones industrial average (INDU) fell 11 points, 0.1%. The S&P 500 index (SPX) rose 1 point, or 0.1%, while the Nasdaq composite (COMP) gained 6 points, or 0.3%.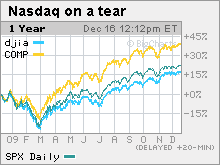 The U.S. central bank released its final policy statement of the year at 2:15 p.m. ET to capstone its two-day meeting.
The Federal Reserve said it would hold the fed funds rate, a key overnight bank lending rate, unchanged at historic lows near 0% -- the level at which the rate has stood for a year.
Stocks had started the day higher, but the market was unable to sustain those gains after the Fed released its statement.
"There are no real surprises here," said Peter Cardillo, analyst at Avalon Partners. "Investors know what's going on with the economy, so it's priced into the market."
In its statement, the Fed said weakness will remain for a bit but a combination of government action, stimulus and market forces "will contribute to a strengthening of economic growth."
The central bank has kept rates low and injected trillions of dollars into the economy in an effort to offset the recession's impact.
The Fed's statement singled out strength in a few sectors, including housing and consumer spending, and it noted that while the labor market continued to lose ground, the pace was slowing.
"This is the vague pronouncement you typically see," said Balestra Capital analyst Ryan Atkinson. "Day traders are jockeying for position, not reacting to some huge change that had a significant effect on policy."
Atkinson said equities tend to make a move just before the Fed releases its statement, but it usually "ends up turning sideways."
The markets have been somewhat volatile this week, partly due to quadruple witching, which is coming up on Friday. Quadruple witching occurs when contracts expire for stock market index futures, market index options, stock options and stock futures.
Stocks broke a four-day winning streak Tuesday as bank shares led a late-session selloff and investors weighed mixed reports on inflation and manufacturing.
Companies: The Federal Trade Commission said Wednesday it is suing Intel (INTC, Fortune 500) for anticompetitive practices against its rivals. Intel shares ended down 2.1%.
The European Union decided to drop antitrust charges against software maker Microsoft (MSFT, Fortune 500) after it agreed to allow computer makers to install competing software.
Economy: Stocks showed little reaction to economic indicators released early Wednesday. This includes the Commerce Department's release of the Consumer Price Index (CPI), a measure of consumer inflation.
November CPI rose 0.4% after climbing 0.2% the previous month, matching expectations. Core CPI was unchanged from the prior month, compared to the expected gain of 0.1% for November, according to a Briefing.com consensus.
The Commerce Department released a pair of housing market indicators in the morning as well.
Housing starts increased to a 574,000 annual unit rate in November from a revised 527,000 unit annual rate in October, matching expectations from Briefing.com consensus.
Building permits, a measure of builder confidence, rose to a 584,000 unit annual rate in November, which was more than the 570,000 rate forecast by Briefing.com consensus.
The weekly crude oil inventory report from the Energy Information Administration said stockpiles decreased by 3.7 million barrels last week.
World markets: Stocks in Asia ended mixed, with Tokyo's Nikkei index up 0.9% and Hong Kong's Hang Seng index down 0.9%. European indexes ended higher.
Other markets: The dollar was mixed against the major international currencies, slipping versus the euro and the pound but rising against the yen.
Crude oil for January delivery rose $1.97 to settle at $72.66 a barrel.
Gold futures for February delivery gained $13.20 to settle at $1,136.20 an ounce.
Bonds were slightly lower in late trading, with the 10-year yield holding at 3.59%.
Market breadth was positive. On the New York Stock Exchange, winners beat losers nine to six on volume of 1.2 billion shares. On the Nasdaq, advancers topped decliners five to four on volume of 2.1 billion shares.